Today's doodle is dedicated to my friend Vicki, and to a lovely pair of friends who live with her, Ridley the dog and Sookie the cat, shown here snuggling in a hammock. (Of course Charlotte and Daisy Mouse want to climb in and join them. Who wouldn't?)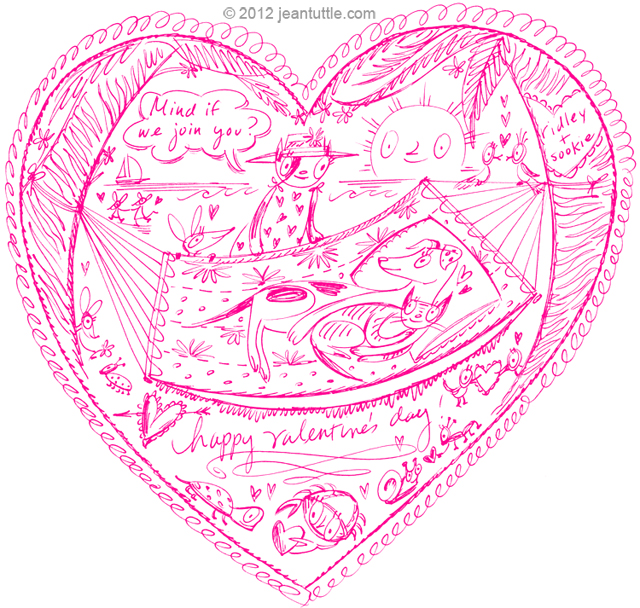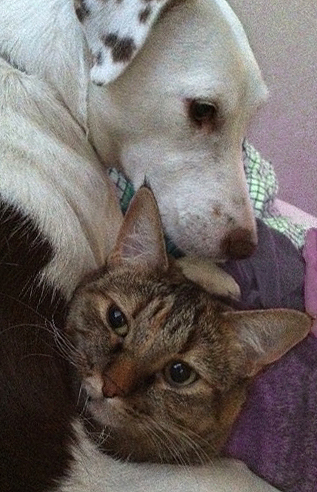 Though I've never had the pleasure of meeting Miss Sookie, Ridley and I go way back, and these two are one of my favorite couples ever. Romantic love is a great thing to celebrate on Valentine's Day, but so is what these two have: a deep bond of affection that transcends big differences. (Yeah, like that kitten and crow video. I'm a sucker for that kind of thing, I'll admit.)
Miss Ridley didn't always have this kind of 'luck with the kitties,' however. And being a friendly soul, it clearly bothered her. In her own household (which, when I lived next door, included 3 wonderful cats), Vicki was her only true friend.
Then one day, love came "on little cat feet"—just like the fog in the Carl Sandburg poem. And these little feet belonged to Sookie, who had since joined the family.
Though I live far away now, I've loved watching Ridley and Sookie's bond evolve via photos or videos Vicki's kindly sent my way. Besides that whole kitten-and-crow thing, their friendship reminds me that even if love has dealt you a crummy hand in the past, or your social life sucks, or the cats you'd like to befriend shun you at every turn, a special someone like Sookie can pad on into your life at any moment, and change, well…everything.
So that's my wish: May love, in one (or more) of its glorious, unexpected forms and varieties, find and delight us all today—and tomorrow, too. Happy Valentine's Day!