Today's doodle was prompted by an email from my-still-vacationing Dad down in Puerto Vallarta, in which he mentioned a rare mediocre lunch at a touristy joint. —This being in contrast to all the nice meals he's had since arriving there, either cooking them himself, or at places like Daiquiri Dick's and Melissa's, where he's been steered by the locals or by our friend Paul.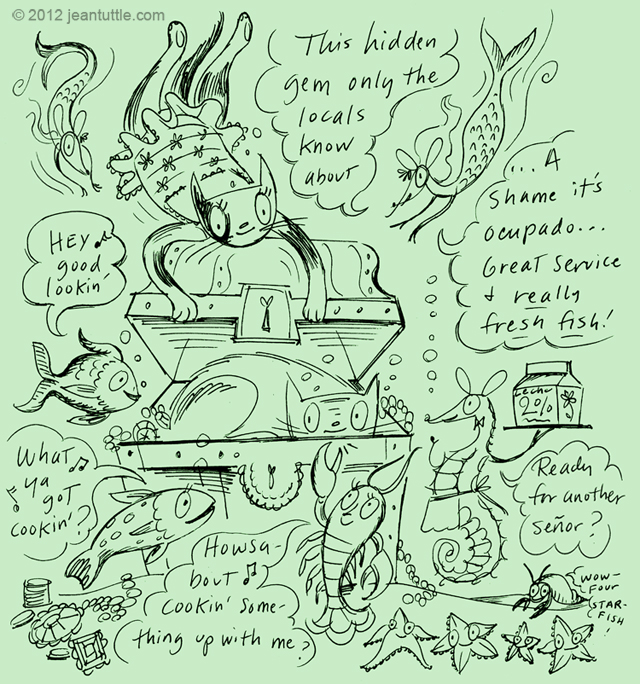 So I figured, Charlotte's probably discovered (or been shown) a few hidden treasures herself. And here she is, making the rounds yesterday at lunchtime with a couple of her new mermice friends.
Doodle Development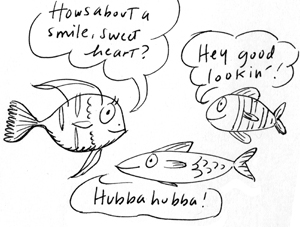 Sometimes, a doodle idea springs forth pretty much intact (sorta like Athena, from the forehead of Zeus). Not bloody often, however. For those who enjoy hearing about how artists come up with the quirky things they do (and for Dad, who likes my looser scribbles), here's a peek behind the curtain, showing how this particular doodle took shape.
All the doodles I post here have some (tenuous) connection with reality, so that's always the starting point—i.e., mining daily events for some kind of idea, no matter how flimsy.
The seed for this one was actually planted last week, when a box of some cool sketchbooks I'd ordered from Etsy showed up. The minute I unpacked the box, Charlotte settled into it for a nap—of course. And, while this happens all the time, it seemed funny to me: Here I was, just thrilled by the contents, and Charlotte (like all cats), was thrilled by (just) the container. Hmm, I thought…doodle material, maybe?
Since Charlotte is still on her Mexico vacation  (for purposes of this blog anyway), and I'd heard there was some nice snorkeling down there, I made a quick drawing of her, bedding down in a sunken pirate chest, having removed all its treasure.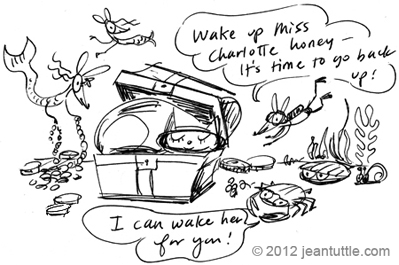 Cute, but too obscure?
I thought so, and cut bait. And doodled and posted something else.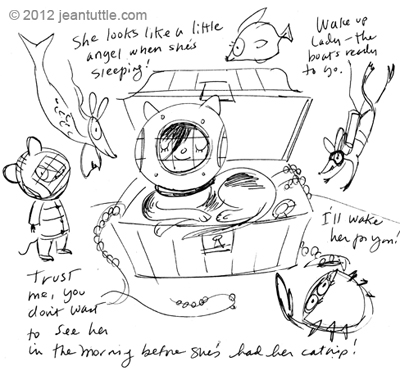 Then a few days pass, and I'm thinking, "I don't have a better idea today…Maybe I'll take another stab at this."
So I scribbled out a new version, super loose, with old fashioned diving helmets, and add in Miss Daisy Mouse, saying something catty. Sort of funny, but weird: Charlotte's markings, for one thing. Plus Daisy kinda looks like the Michelin man.
Then I get Dad's email about his mediocre lunch and think, maybe I'll shift the focus from sunken treasure to those "hidden gems" that only the locals know about.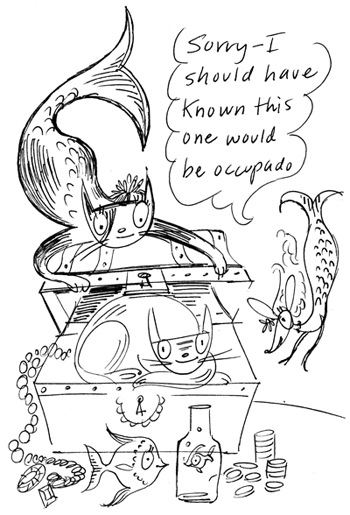 Now, this next one I like, but how did Charlotte suddenly turn into a mermaid? (Plus, wouldn't it be fun to clutter it up with some extra stuff? —My specialty.)
So, while Charlotte goes and puts on her favorite swimsuit, I test-drive some other characters on some scraps of paper…a seahorse waiter, some fresh-mouthed fish, some choose-your-own lobsters.
Then I draw the final, scan and post.
So, that's how it works. As one of my teachers back at Parsons used to say, when it comes to solving a drawing problem, "thinking time is wasted time." Which means, whether I'm doing an illustration for a client or something less serious (like these cat doodles), sitting and thinking about an idea isn't enough: I have to actively draw my way there. (Which is also to say, we go through a lot of paper around here.)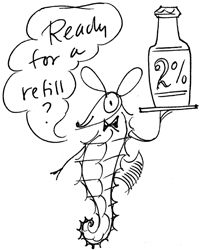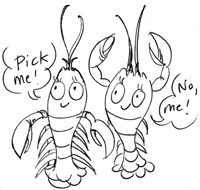 The bittersweet ending to this story is, yeah, sometimes the early doodles I abandon are actually nicer (or fresher) than the ones I finish, but I won't figure that out until later. In my commercial illustration work, the client helps steer the process, and that helps. But with this doodle thing, it's just me. And while I love that, it also means, today I'm kinda preferring that very first doodle I did last week, with Charlotte sleeping in the treasure chest. Oh well!
A Shout-out to Erin and "Art in Action"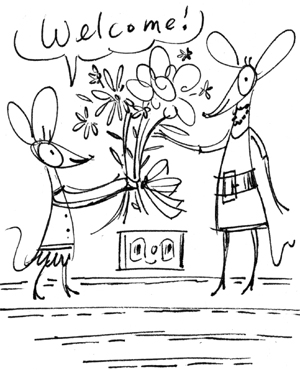 I'm always thrilled when someone new subscribes to this blog. So a big thanks, and welcome, Erin!
Erin is the Advancement Coordinator at the Lakeside Legacy Foundation (where I have my studio), and one of the people there who is working hard to create a very cool event for First Friday next month.
"Art in Action," is a once-a-year opportunity for the resident artists to not only show their work on the walls (as many of us do on our regular First Fridays), but to also set up a display table, do a demo or perform, give out info on classes they offer, show some of their students' work, etc.. The resident musicians have been invited to participate also. It's a family-friendly event with free appetizers and a cash bar. Doesn't it sound like fun?
The "Art in Action" First Friday event will be held on March 2, 2012, from 5 o'clock to 8 PM. Lakeside Legacy Arts Park (known by many as the Dole Mansion) is located in Crystal Lake, IL, at 401 Country Club Road. For more information visit the Lakeside Legacy Foundation's website, or contact 815-455-8000.
If you're in the Chicago area or the Northwest suburbs, I hope you'll come by on March 2nd. I'll be there doodling, as well as showing my other work—illustration, design, and Web design—and look forward to seeing you!