Giselle, Charlotte's maid, has taken excellent care of the rest of us these past few weeks, while she and Dad have been away on holiday. Giselle has a fairly relaxed style of housekeeping however, similar to Hatta, the Hatter's, where it's always time for tea and snacks, and, once dishes are soiled, one simply moves on to the next clean place setting.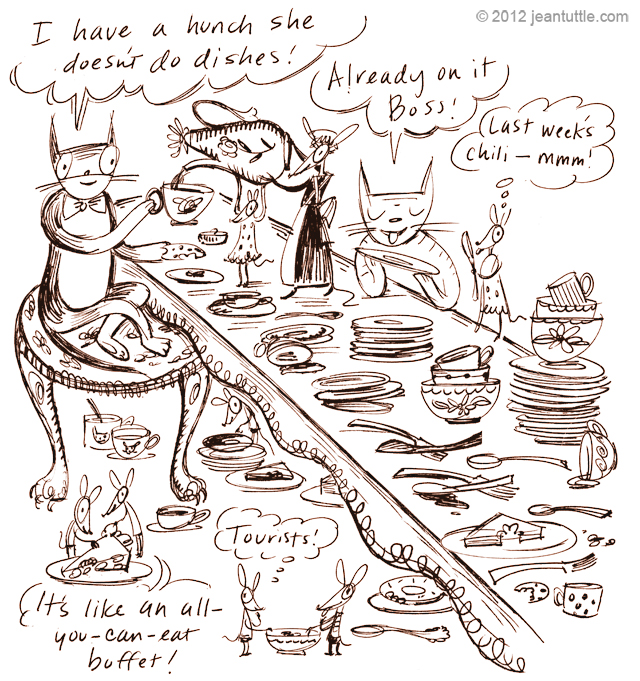 This approach works best I've found, when there aren't any other human witnesses, and when one doesn't mind busloads of new mice showing up to join the party. And it works great as long as the clean dishes (and after that, the paper plate supply) holds out.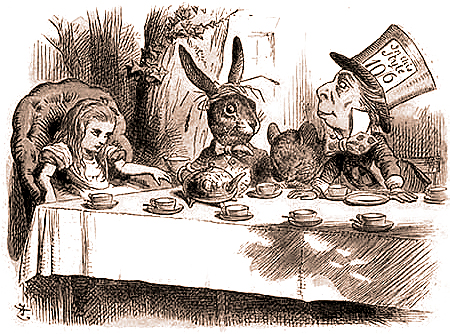 Which is to say, with Dad, Charlotte and Daisy all coming home from their trip today, I think I'd better go upstairs and lend a hand. It sounds like Blackie's already started vacuuming, and I don't think Max and Flora are going to be able to lick all those dishes clean by themselves!
Have a great Tuesday Everyone, and good luck with whatever special projects you are working on today, too.
And Dad, if you're reading this, don't worry—I'm just kidding about the house (sort of). See you later at the airport, and meanwhile, have a good flight!