Little Mouse and my visit to Wisconsin is drawing to a close this weekend, so we've been saying a fond farewell to all our favorite places. This afternoon we not only went to the dog park and the Mousehouse, we also went back to the town's small library, to revisit their local history exhibit, which this month showcased some wonderful old bonnets from the "era of the hat" (the late 1890s—1920s).
Despite the sign "not to touch" a kindly librarian let Molly, Ranger, and Little Mouse each try on one of the vintage hats, and wear it while we hung out and read.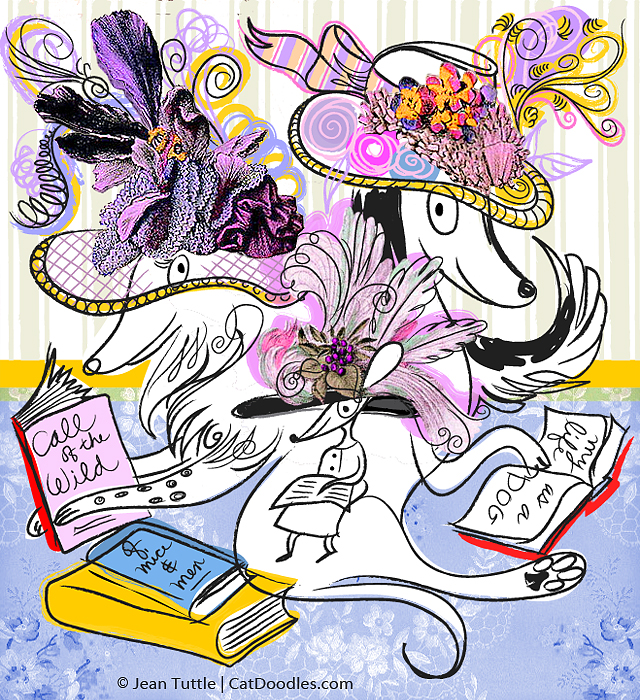 While in "real life" the actual hats on display were all black, with an occasional pink flower—which made me wonder if they were really Easter bonnets, after all—we imagined them in an array of lovely spring colors.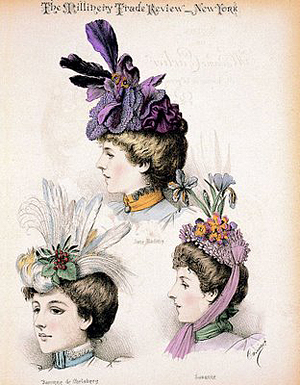 —Thanks in large part to inspiration from The Graphics Fairy, where I found this great image of hats (and the rug pattern, too, which I adapted from one of her wallpaper swatches). If you haven't yet browsed through Karen's extensive collection of scanned ephemera (and like that kind of thing as much as I do), you're in for a real treat. Karen adds new images to her blog daily, often reflecting seasonal or holiday themes, so there is currently a lot of fun Victorian Easter imagery being posted to enjoy and also use in your own collages.
Meanwhile, I hope everyone out there has a wonderful day, full of your own fond, creative, and colorful adventures!