As birds go, it turns out that baby Woots mature really quickly—which is lucky indeed, considering Mama Charlotte's lack of maternal impulses.
Saturday found our household's newest member weaned, walking, talking and flying (well, a little). Enough, though, to float up to the catbird seat at the Birdseed Café in our back patio, under her own steam.  Once there, Baby Stella seemed right at home, sitting pretty and chatting with the regulars.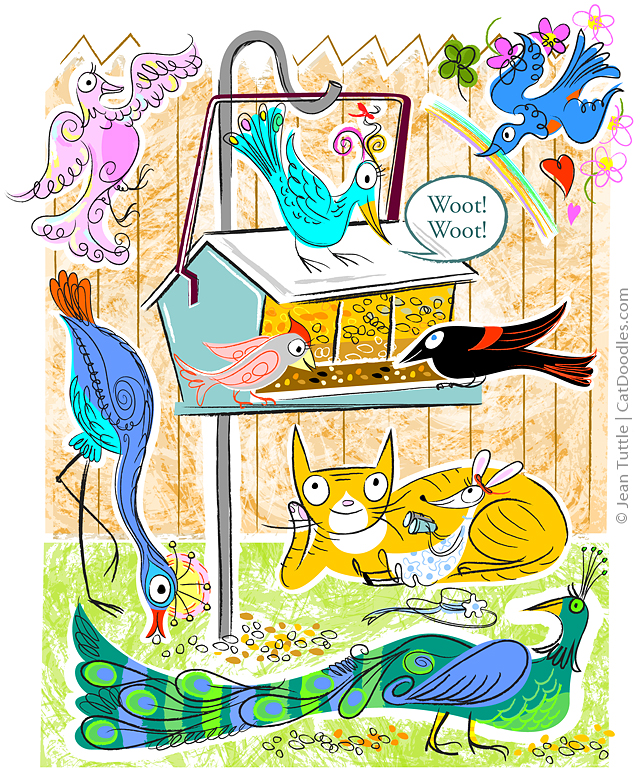 While Charlotte took a snooze, Uncle Max and Aunt Flora Mouse kept a close watch on Baby Stella, just in case she needed a helping paw. And while their hovering didn't prove necessary, they were meanwhile treated to a welcome sighting of the Bluebird of Happiness, which flew in with an update on Dad up in Madison: Apparently, James had made such good progress following his hip replacement on Thursday night, that he had just been transferred from the hospital to a nice rehab facility that very morning, to continue his therapy there. (Great news, Dad—Keep up the good work!)
Between Stella's progress and Dad's, Saturday was a five-star news day all around.
Artist Wendy Wray's Bird Stamps
Speaking of stellar achievements, I've been meaning to share this tidbit for a while, ever since late February, when I first heard about it. And since it fits in so nicely with today's bird and accomplishment themes, today seemed like the perfect day to do it.
Here's a photo of my good pal (and famed artist), Wendy Wray, taken a bit earlier this year, in front of a display of some of her limited release endangered species bird stamps.
"Limited release" in this case means that you can only buy these online, and can also only use these stamps on mail sent from the United Nations' post office at UN Headquarters in NYC. —Which is where Wendy is pictured below, on the day she stopped by there to do just that.
There is another nice little write-up on Wendy's stamps here.
Congratulations, Wendy! To have been hired to create an illustration for a postage stamp is a very great honor, in my (or anyone's) book. But to have contributed twelve illustrations—and for each one to be so exquisite (like all your work)—is even more fantastic!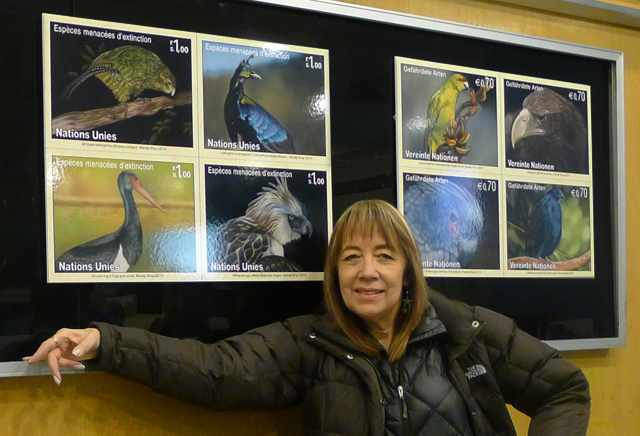 I hope everyone's Saturday was equally flush with good news as ours was here, and wish you all a happy and relaxing remainder of the weekend.
I have an illustration deadline to go finish up once I sign off, so I probably won't see you on here again until late, late Monday night—or even Tuesday. So, until then, best wishes for the start of the work week, too. And special greetings and love to Dad up in Wisconsin: We miss you, big guy!
P.S. The peacock in today's doodle is for my sister Carol, with many thanks for performing the Max-and-Flora role up in Madison. (Not that Dad requires much hovering, Sis, but it's still awfully nice for all of us that you are there.)