With Dad up in Wisconsin, convalescing from his recent hip surgery, it was inevitable that one of these days I was going to have to bite the bullet and deal with the lawn, back here at home.
But before I got out the "big guns" (i.e., the lawnmower—which I barely remembered how to use from last summer), I thought I'd try the kinder, gentler, free salad bar approach that had worked so well up in Madison recently. (If goats and sheep can trim a lawn, then why not hungry cats and mice?)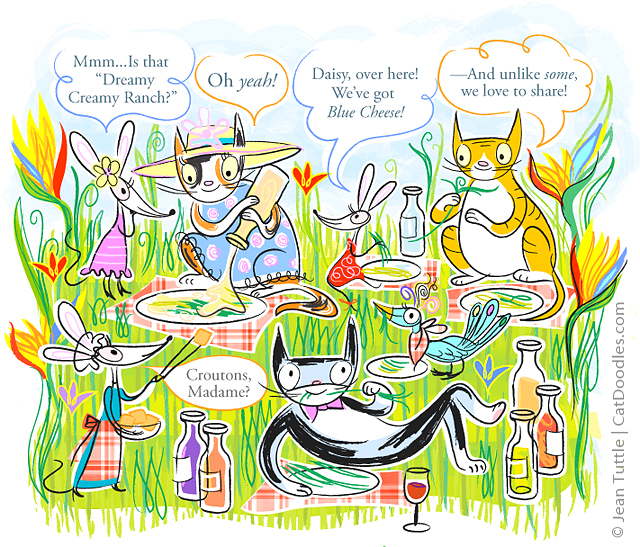 The mood for our luncheon was festive and fun: I rounded up the tastiest assortment of gourmet salad dressings I could find. Giselle prepared her famous homemade croutons with asiago cheese. And when Charlotte heard about the breathtaking bird of paradise arrangement that her friends Bea and Dennis had sent to Dad up at rehab, she insisted we find some to decorate the "table." —Which we did.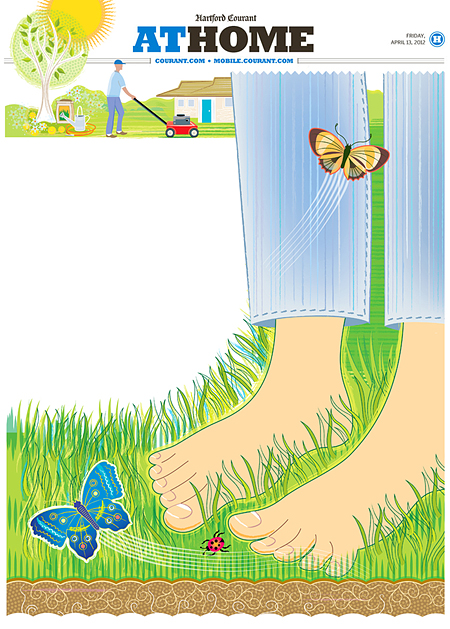 In the meantime, a freelance illustration assignment had come in for me on lawn care.  Quite a happy coincidence: While they all munched, I slipped off my shoes and drew.
Here's my final drawing—which will look even better when it's printed, I think (i.e., once the headline and body copy are dropped into that empty white hole).
And just for fun, here are a couple other illustrations I've done for the Hartford Courant's Home section in the past year, that also featured green, growing things. —Which I find much more fun to look at and to draw than to deal with in real life. (Ha—no surprise there!)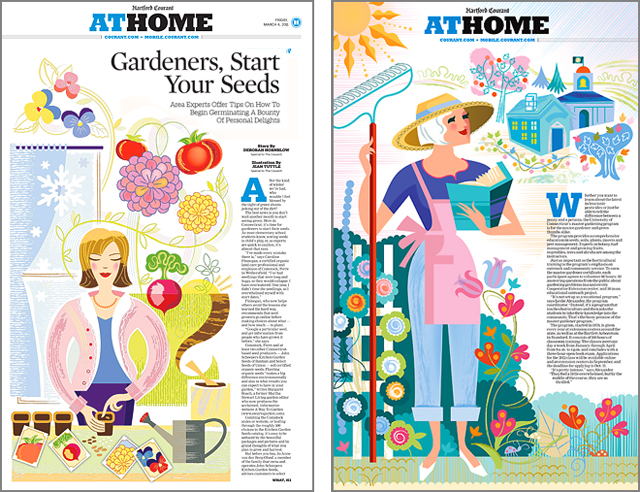 Best wishes on a late Tuesday night, and may there be plenty of salad days ahead for us all!