I'm sure a few of you have noticed that I haven't been posting quite as often this past week—making this more like the Almost Daily Cat Doodle, as I've been thinking of retitling it (thanks to an inspired suggestion on the part of my pal, Jill). But even when time is too tight to do a proper drawing, Dad still gets some kind of morning scribble—often too loose to even be considered a doodle—as per an earlier post on this subject. (Though these days they're emailed to him, versus left out on the breakfast table, since he is still in Wisconsin at the rehab center.)
Just for fun—and as a way of recapping his recent medical adventures so far—I thought I'd share some of these looser scribbles, starting with the one I sent him the morning after I got the news that he'd fallen, while up in Madison visiting my sister Carol. (The news caught us all off guard—though maybe Charlotte most of all.)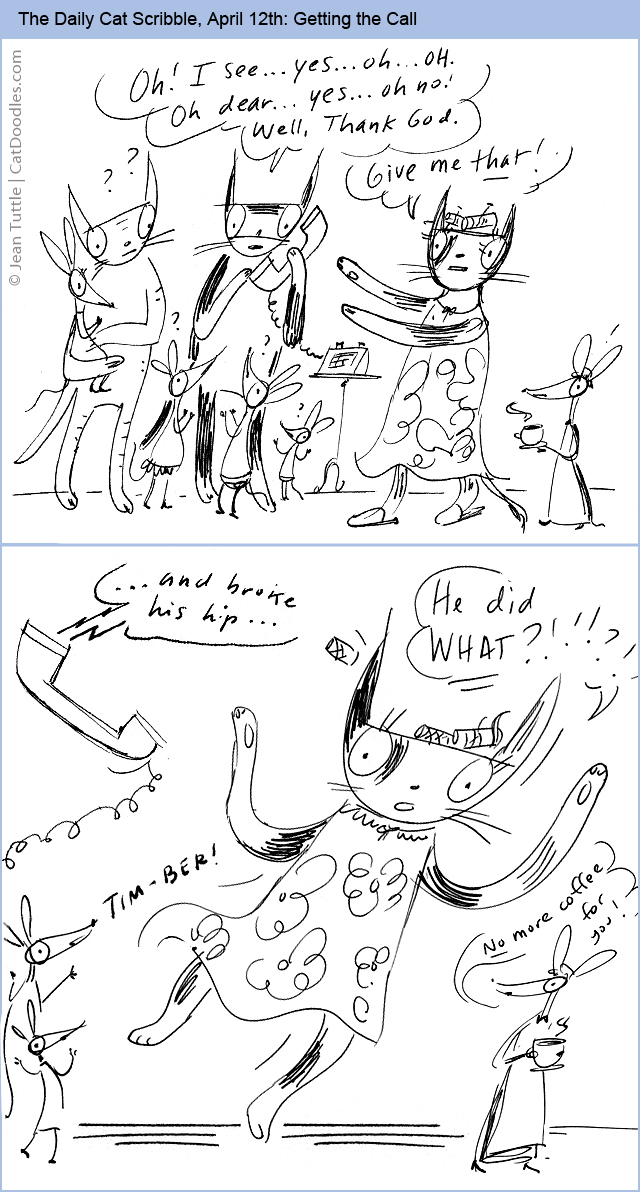 Within just a couple of days of that though, Dad had not only had a full hip replacement, but was doing so well that he was being shipped out to the rehab facility (where he is now), for Stage 2 of his recovery. Congratulations seemed in order, so I send him this "wishful thinking" image of him speeding out of the hospital with a walker and rollerblades.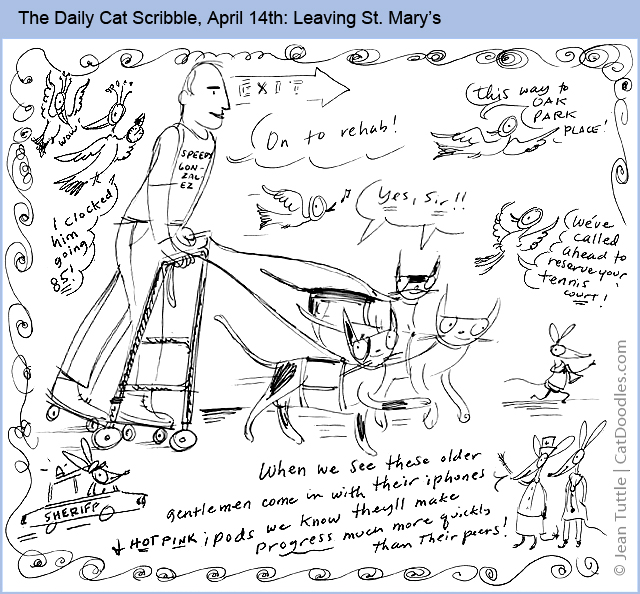 When Dad told me later that he'd actually been transported on a stretcher (OK, I knew that), I figured he deserved a more restful doodle the next day, so here he is, settling into his room at Oak Park Place, with Charlotte somehow magically transported up there to look after him (and sticking close).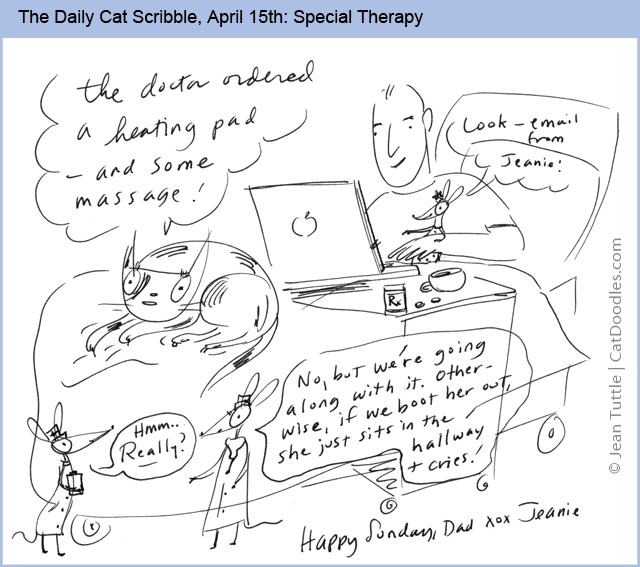 But alas, Charlotte wasn't really up there at all—She was back here in Illinois, pining away for her favorite human. So I brought home a get well card from the grocery store for her to send him, which she then personalized.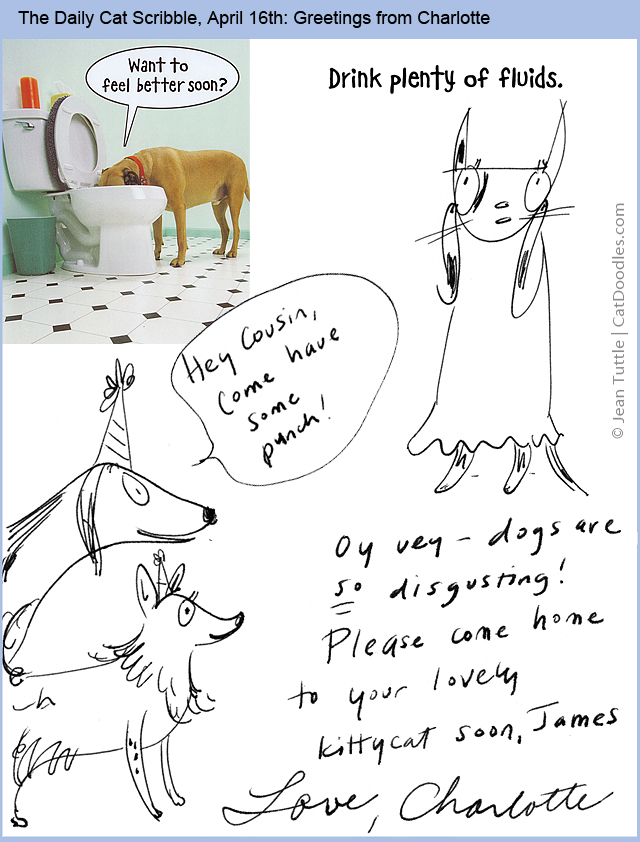 The next morning, while hunting for a postage stamp for her card, Charlotte nearly got stuck in the tiny box on Dad's desk where he keeps them.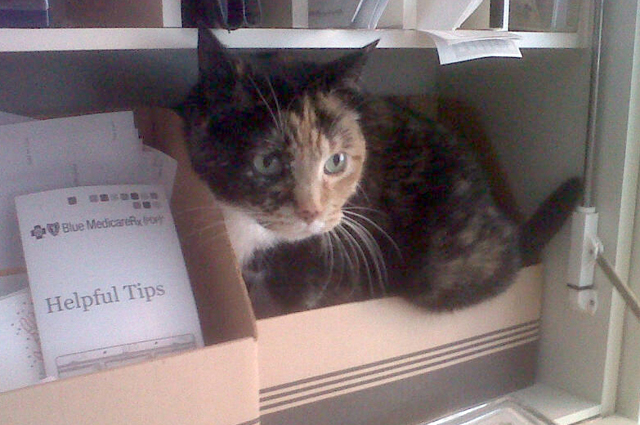 —Which prompted the next doodle, commenting on Charlotte's recent weight gain.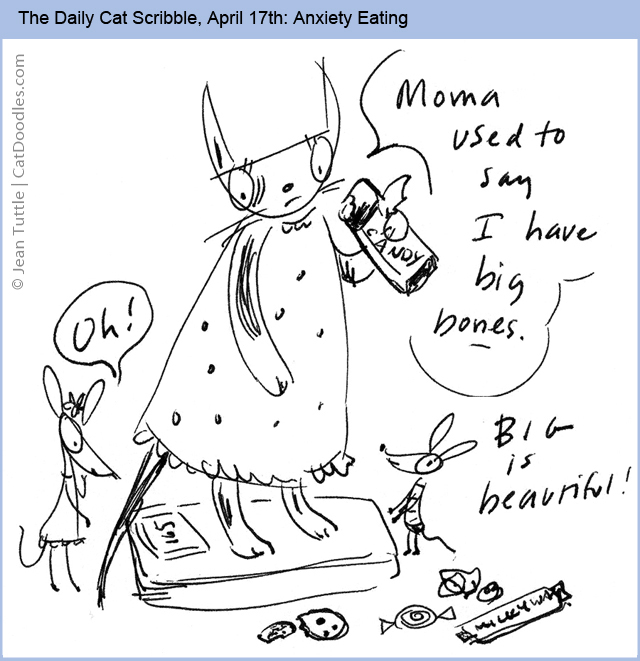 Well, the really good news is, Charlotte won't be anxious much longer, nor will I be emailing Dad his doodles, versus leaving them out on the breakfast table again: Dad will be home a week from today—yippee! (Thanks again to all who've sent greetings and "get well soon" wishes his way—either directly or through the blog—they apparently worked!)
Wishing everyone out there some good news today, too, and a wonderful weekend, to boot. See you next time!