Late last night, Charlotte spearheaded an expedition to the arctic regions of our fridge, looking for a snack. Underneath several layers of hard ice, she hit pay dirt—a homemade peach pie my sister Carol had made for us during a visit last summer, and stashed away, unbaked.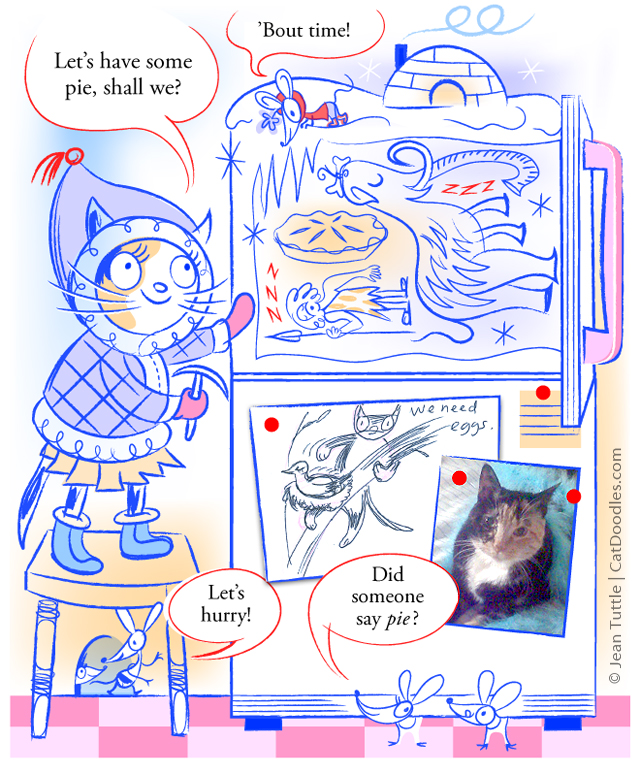 Given how excellent Carol's pies always are, it seems crazy that we kept putting off baking (and devouring) it all those months. All I can think of is that we were saving it for a special occasion…which, once it arrived, never quite seemed special enough.
The big question was: Would a fruit pie still be viable, after all this time? One way to find out: I baked it, unthawed, for about an hour and 15 minutes, and at 3 AM, Charlotte, the mice and I all had a pie-tasting. Delicious!—And every bit as good as the day it was made. (Thanks a bunch, Sis!)
While I know peaches aren't yet in season, someday soon they will be, so while I'm at it, here's the recipe Carol used—our mom's, written in her hand and tinkered with to perfection over all those years, while she baked pie after glorious pie for her family.
Hope everyone is having a great Friday today—and if not, remember, there are few situations that a slice of pie won't improve (at least a little bit!). —Ideally pie that's been made by someone who loves us (and knows what they're doing), but even a warm apple pie from Mickey D's will do in a pinch. Happy Friday!