I am just about to hit the trail for a week-long trip, but before I do, I wanted to give a shout-out to my sister Carol:
Happy Birthday, Sis!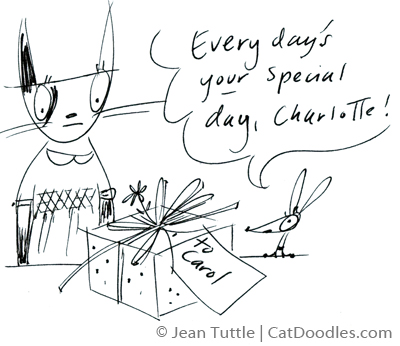 As much as Charlotte loves her Aunt Carol, she's not super thrilled about this—nor is she very happy with me right now: Not only did I just wrap a pretty little gift and put someone else's name on it, I'm also posting a single, simple, black and white cat doodle today —versus giving her the full Hollywood star treatment she deserves. (Not to mention, I'm posting some old photos, instead. Egad!)
Sorry Charlotte! As it's Carol's birthday, I wanted to post something on here today that I thought she might enjoy even more than a cat doodle—i.e., some "birthday monkey business" by our mom Priscilla, from a bunch of years ago.
In the photos below you can see Mom's hand drawn Give-the-Dog-a-Bone game (ala Pin the Tail on the Donkey), and a similar game where features (nose, eye, lips) were stuck to a half-empty portrait she drew of the Queen of Hearts, resulting in some giggle-inducing, Picassoesque faces. (The beautiful little birthday girl with the braids is Carol, of course.)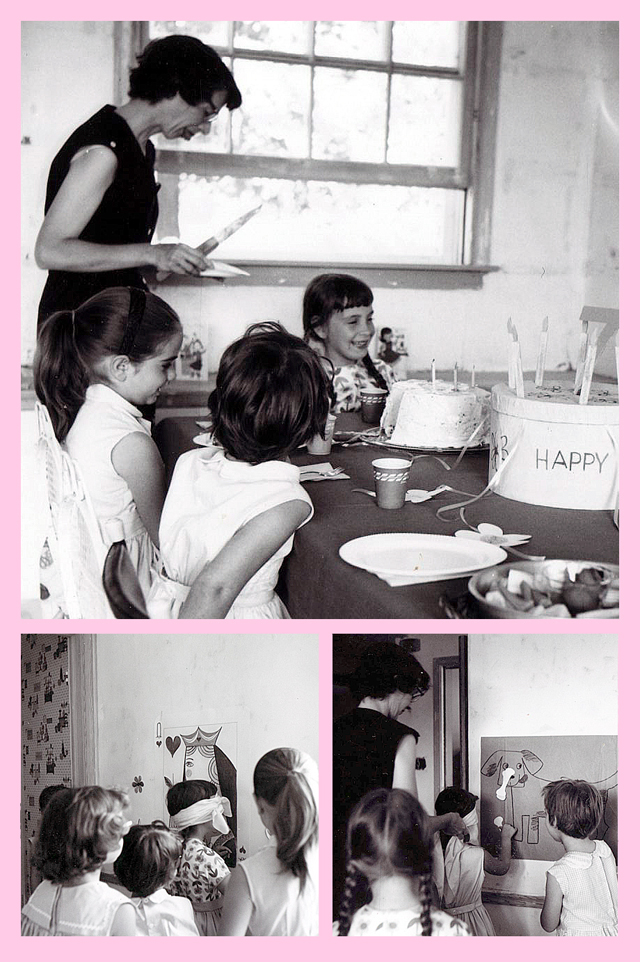 The wonderful hat box birthday cake centerpiece was inspired by one of Mom's "go to" books, the McCall's Golden Giant Make-it Book mentioned in an early post (see below illustration from the 1953 edition). Each little girl guest (including me, with the cropped 'do in the foreground) had a big paper daisy at her place setting with her name on it, attached to a ribbon, attached to a party favor inside.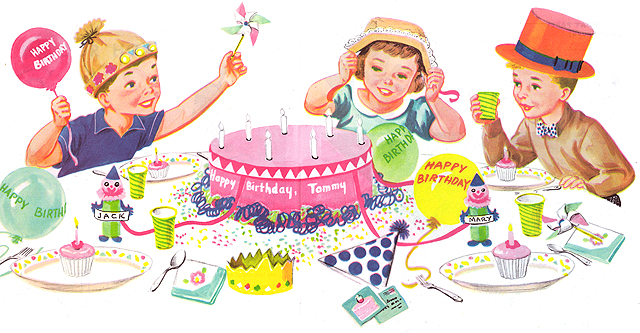 I've been to lots of parties over the years, but it's hard to beat this one for sheer fun—even though it wasn't me who was being celebrated that day. (Hmm…Are you listening, Charlotte?)
Dear Carol, I hope you have a wonderful birthday, and feel all your friends' and family's love around you today, including Mom's. Very tough losing her (2 years tomorrow), but so wonderful we got to share her all those years. Lots of love to you. I'm so very glad we're sisters.
Hope everyone has a good Monday and a wonderful week. See you when I get back!