One of the perks of having someone in your household empty out a large storage closet in another state is the profusion of Fedex boxes that soon show up, offering wonderful new places to nap (Blackie), or to "shop" for new outfits (Charlotte).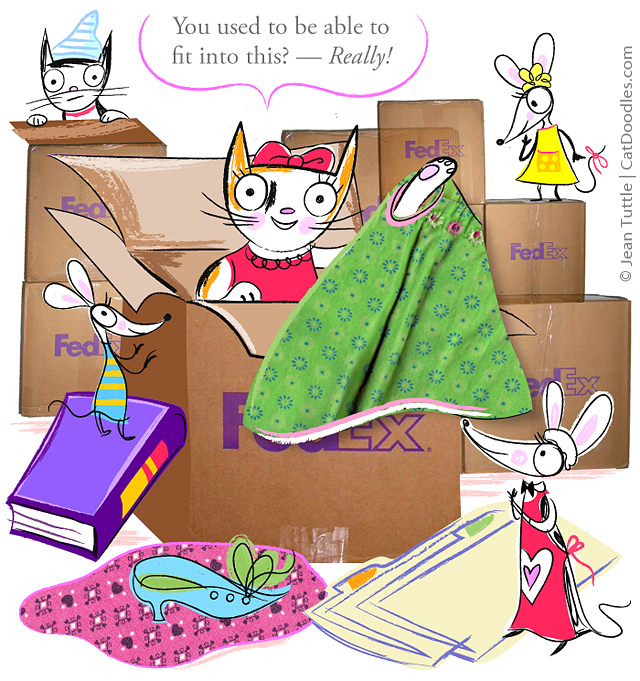 Miss Charlotte hit pay dirt about three boxes into her latest "shopping trip" yesterday, when she came across some beautiful hand-sewn aprons that my mom Priscilla had made when my sister Carol and I were tots. Much too small for either Carol or me now, of course, but just about the right size for an overfed tortoiseshell cat.
It was wonderful for me to rediscover these aprons again, too. I'm not sure where Mom got the inspiration for them, but they were (and are) pretty special. Originally envisioned to wear over our clothes when we tackled messy art projects, I think, we girls also wore them as summer shifts, back when we were age 4 and 6. Mom designed large, graphic appliques for the front of each—some of which also functioned as pockets, like this lion, now separated from his apron.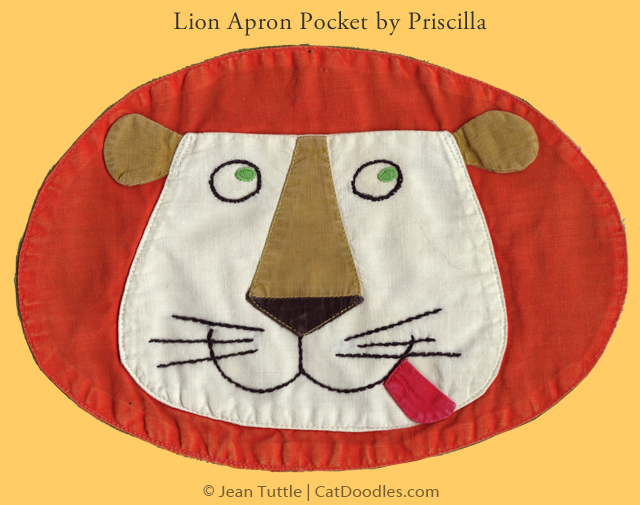 (Yes, you can see from how he's designed that Mom definitely was a fan of, and influenced by, Alice and Martin Provensen's 1950s-era illustrations—as am I.)
Here are a few more images, of  Carol wearing an apron with two heart-shaped pockets, atop our backyard swing set, and of me in our kitchen, wearing what was probably my favorite—a pale mocha apron with a little brown bear pocket (that you can just see peeking out over the edge of the table).
(I seem to be cross or concerned about something here, yes? Perhaps even saying, "Now Mom, please don't throw this apron away during one of your cleaning binges in the mid-1970s!")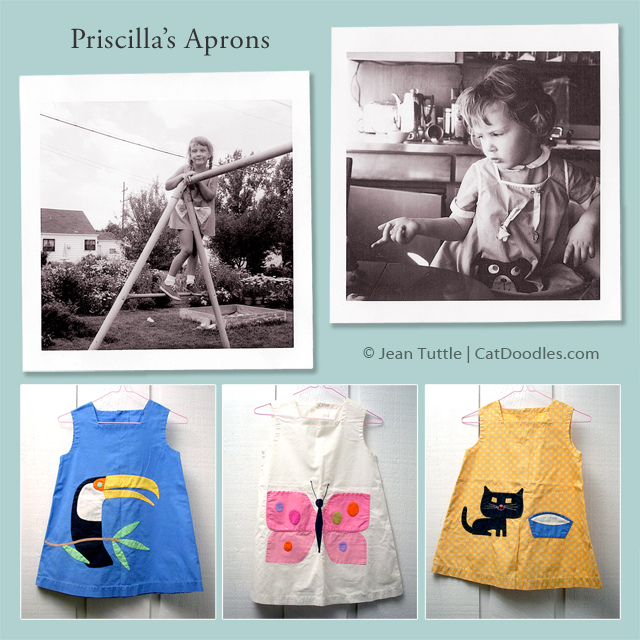 And it's true that a few of the aprons that I loved and remember are now gone—including the one with the little bear, another with an ice cream cone pocket, and a white apron with a large red apple over the tummy. But I'm just happy (and grateful) that this handful of others have survived.
Tomorrow I'm going to deal with finding places for some of the rest of the (16— yikes) Fedex boxes and their contents, but today it was lovely just to relax and watch Charlotte discover some new treasures, and reflect on my own memories.
I hope everyone had an excellent rest of the work week since we last visited, and is looking forward to a fun weekend ahead—however you end up spending it. See you on here next time!
P.S. Thanks again, Annette, for all your help getting these Fedex boxes shipped out from Denver—I could not have done it without you!
P.S. to Dorothy: Here's an extra scribble from Dad's breakfast table showing our resident seamstress's updates to the collection.