Today, our resident artist mouse, Aaron, is sharpening his pencils and getting ready to draw the lovely Charlotte for this week's beach-themed Blown Cover Contest. Aaron has promised to be on his best behavior, and to make her look glamorous— versus like a crazed zombie cat monster, as you may recall seeing in an earlier post.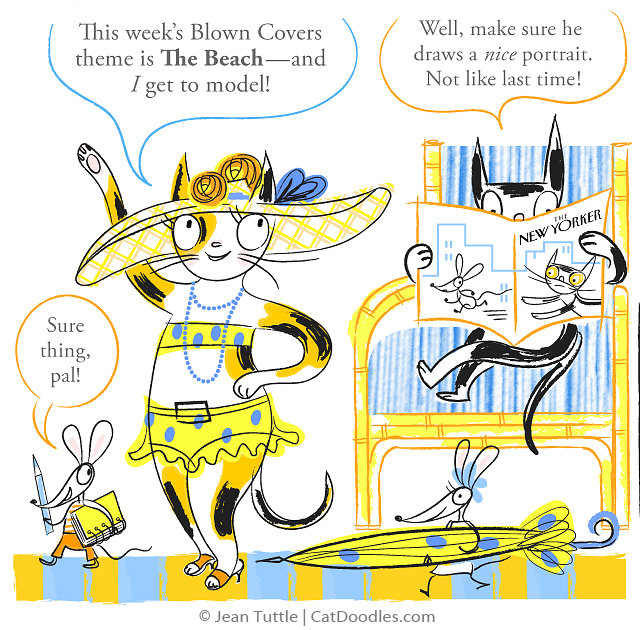 Every Monday a new theme is announced on the Blown Covers website, and every Thursday, about a hundred artists (and one mouse) submit their best concept sketches showing how they would apply that theme to a New Yorker cover illustration. And while the contest is not affiliated with The New Yorker magazine per se, it's still a great way to get to know its art director, Francoise Mouly, and to introduce her to your work—since she runs the contest, along with her daughter, Nadja Spiegelman. (—Not to mention, it's also a superb way to exercise your creative muscles, and to come up with new editorial artwork samples.)
I'll be sure to post Aaron's finished beach theme drawing up here on Friday, but in the meantime, I thought I'd share a few of the Blown Cover Contest submissions I've sent in recently as well.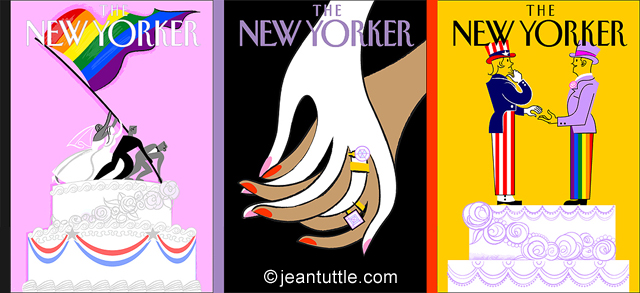 Several weeks ago, the theme was Gays in America, and I submitted the above three concepts on gay marriage, a cause I support. The image on the left, showing a lesbian couple and a gay couple planting a rainbow flag atop a wedding cake (ala the famous photo of soldiers at Iwo Jima) was chosen as  Runner-Up #3.
The following two weeks I was not so lucky—neither of my submissions for the Father's Day or Weddings themes made it out of the "slush pile." But I still had a wonderful time coming up with ideas, and fleshing them out.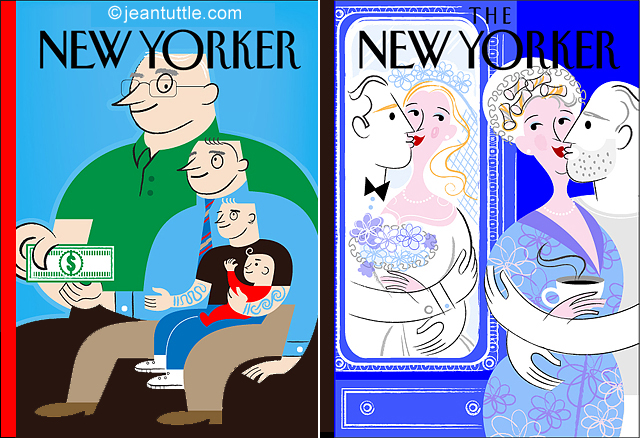 At left, a concept for Father's Day, showing how fathers of my dad's generation are in many cases still being called upon to help out subsequent generations financially. On the right, my concept for Weddings, showing a long-married couple who still sees themselves as the lovely bride and groom they once were. (What can I say? I'm a romantic at heart.)
Last week the Contest theme was July 4th. This time the image on the right made Runner Up #7. My idea here was simple: Everyone gets a holiday, so why not Lady Liberty?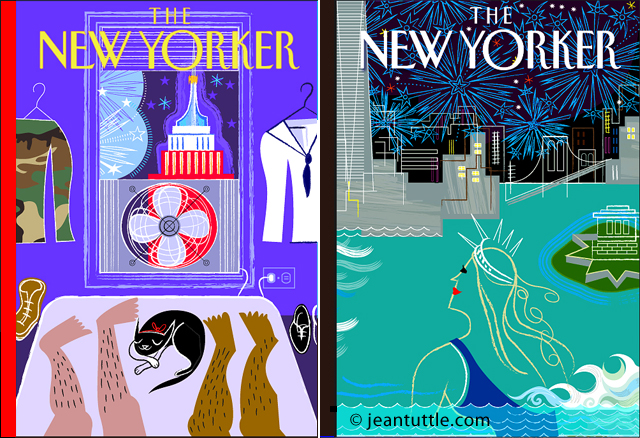 The image on the left is my small nod to gay servicemen, as well as a nostalgic take on my first NYC apt., from which I could see the Empire State Building out the bedroom window—a huge night light, lighting up the sky, as I was falling asleep.
Speaking of sketches, I have a client waiting on something for me, so I'd better scoot! I hope you all have a wonderful Wednesday. I'll see you back on here in a day or two…with more "Beauty & the Beach," from Aaron Mouse and me.
P.S. Adding in one more here — a very loose scribble — that Aaron Mouse did of Charlotte as Miss Liberty for Dad's breakfast table last week. (This one's for you, Sis in response to your comment below.)