Gayle Kabaker, Illustrator, Superstar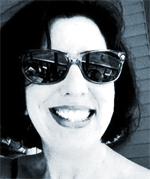 Today's post opens with a shout-out to my good (& wonderfully talented) friend Gayle Kabaker, whose beautiful illustration of two brides graces the June 25th issue of The New Yorker, on newsstands now. Again, congratulations, Gayle—no one deserves to be on a New Yorker cover more than you do!
—Unless you ask Charlotte, of course! Though even she had to concede that Gayle's cover was, in a word (or two), outstanding…awesome…superb.
 In fact, once kitty got past her initial dismay—i.e., that this week's cover didn't feature a beautiful tortoiseshell cat in a swimsuit—Charlotte resolved to hitch her wagon to a brighter star (Read: Gayle's), rather than hang around here and continue to pose for drawings by Aaron Mouse.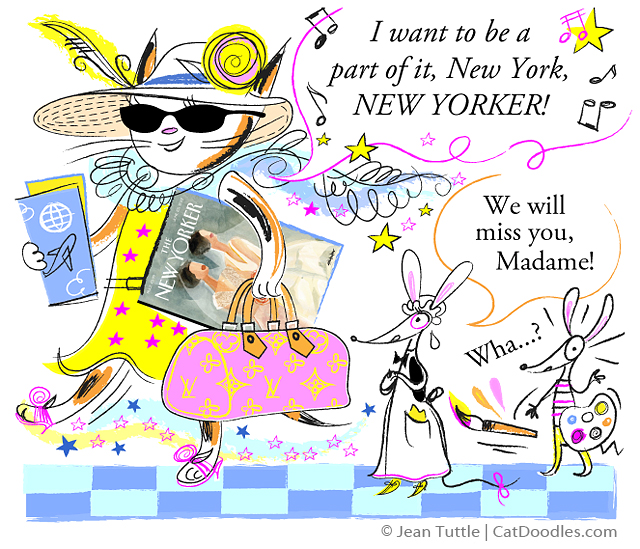 Not only does Aaron tend to draw his feline muse in a less than flattering light, but his wacky proposed New Yorker covers never even get sent in to the weekly Blown Covers Contest—where The New Yorker's art director, or anyone else, might actually see them (and which is how Gayle got her real New Yorker cover gig). Talk about blown opportunities!
We were sad to watch Charlotte go, but it was fun just imagining Gayle's face when she showed up at her studio door, way out yonder in the Berkshires, a one-way ticket stub in hand. (Especially since Gayle is really more of a dog person.)
This is where I first met Gayle, back in the Fall of 2001. I had driven up there from Hartford, where I was then living, to attend a (free) weekend retreat that Gayle had organized, so that some New England-area colleagues and friends could hang out, make art, talk art, inspire each other and be inspired. That's Gayle for you: collaborative, generous, and always encouraging her fellow artists to jump in the pool and play. (Not to mention, friendly and welcoming, especially to this stranger—moi—who was really just tagging along, the guest of another guest who couldn't attend. Thanks again, Nancy!)
Gayle and I did not stay strangers for very long, however. Her enthusiasm and positive outlook extends not only to artwork and fellow artists, but also to the business side of things. In addition to her work, I've also always admired her focus, determination, and savvy. She very quickly became one of those "inner circle friends" whom I would call on to brainstorm with, or to get advice, a pep talk, or a critique from—which she is to this day. (And it's of course no accident that I found out about the weekly Blown Covers Contest from Gayle, who emailed me a month or so ago, urging me to participate.)
Here are a few of my favorite illustrations by Gayle. You can visit her site to see more of her images, her design, Web design and art licensing projects, and to order giclee prints.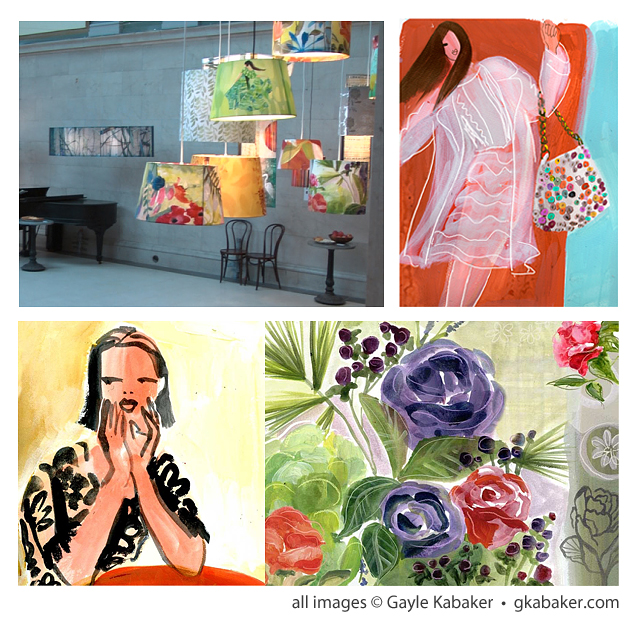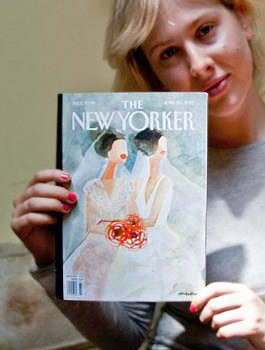 And here's one of my favorite photos that has shown up on Facebook in the last few days in response to Gayle's New Yorker cover—a photo of her daughter, singer/songwriter Sonya Kitchell, holding up a copy of her mom's work. (Gayle has always been her daughter's biggest champion and supporter, but I get the sense that pride and admiration definitely runs both ways.)
Meanwhile, when you add in Gayle's fine artist husband Peter Kitchell, and their son, aspiring photographer Max Kitchell, the whole family's just bursting with star power. (Poor us—our dear Charlotte may never come home!)
I hope everyone out there had a fun and creative week (and maybe even something thrilling to celebrate, like our friend Gayle). But regardless, TGIF, no? Have a terrific weekend, and see you all on here again real soon!