Well, Friday wasn't so bad, but Thursday we had a heat index of 110 degrees out here in Chicagoland. Whew! Here's a "tidied up" version of Dad's breakfast table doodle from yesterday showing Miss Charlotte cooling off in the sprinkler—a fairly un-Charlotte thing to do. But extreme temps call for extreme measures, no? (Plus, she just loves when I draw her in a swimsuit.)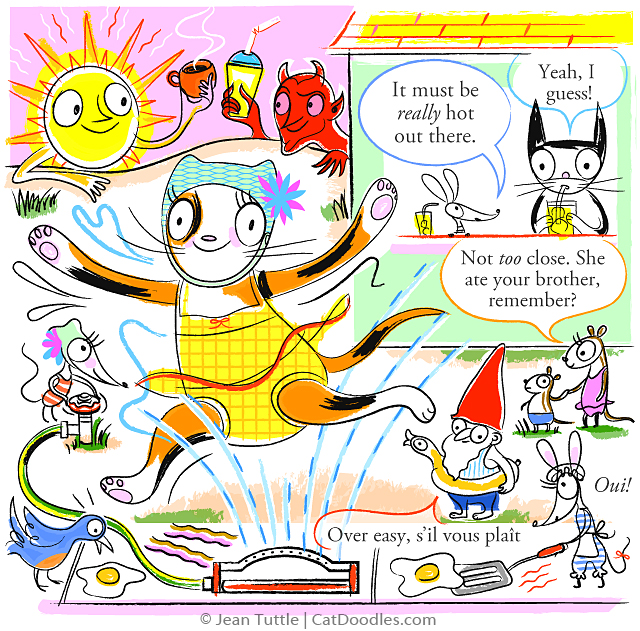 Me? I've been beating the heat by staying indoors, sticking close to the computer, and the a/c. —Which isn't great for my Vitamin D deficiency, but is excellent for getting things done. Just for fun, here's some of what I've been working on since I last reported in.
Below is an editorial spot for School Library Journal on how librarians use Pinterest, "a virtual pinboard" that lets you "organize and share all the beautiful [and in this case useful] things you find on the web."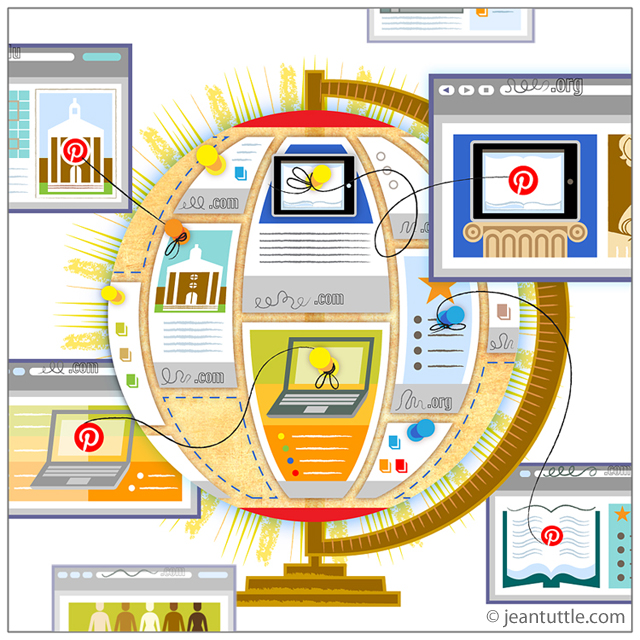 I've also had fun creating more faux New Yorker covers for the weekly Blown Covers Contest—for me a welcome opportunity to try out new ideas, different approaches, and take part in a creative challenge alongside my peers. Last week, when the theme was New York Fall Fashion, these were two of the designs I submitted—at left, a fashionable woman blended with a cityscape; on the right, a mannequin "dressed" by a gust of fall leaves.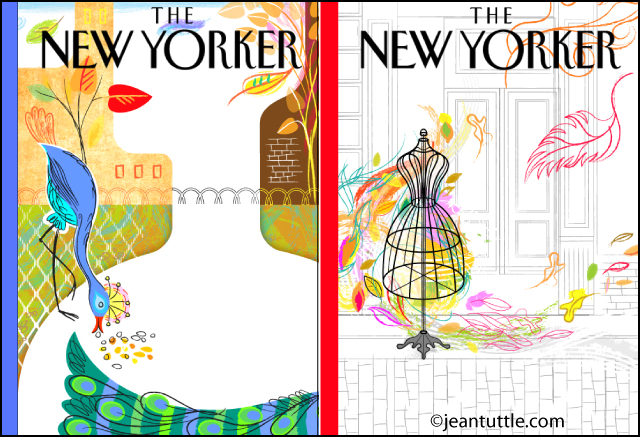 This week the theme was Food—with a NYC slant—which I enjoyed even more, I think. Here are two of my more cartoony ideas—exotic produce presented to discriminating, well-heeled shoppers at left, and "food on the brain" at right.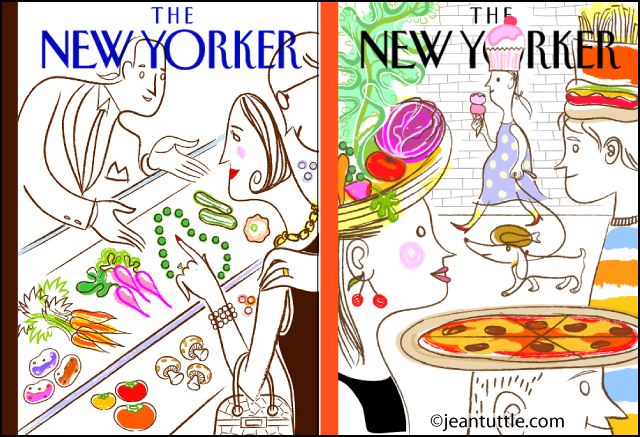 You can check out everyone else's submissions on the Blown Covers website, including this week's terrific runners-up and winner.  But do browse through the slush pile, too, if you have time. There's an especially rich collection of gems in there this week—some beautiful designs from artists like Kim Murton and Nina Berkson, some clever concepts by one of my favorite regular contributors, Brazilian illustrator and designer Daniel Kondo (who also had an excellent  runner-up chosen from his entries this week), and some wickedly funny (even twisted) drawings by Chris Greco, Otto Zaiser, and others. —All making the slush pile—where you'll also find 3 more of my drawings—a pretty fine place to be!
Hope everyone had an excellent week and is looking forward to a weekend full of fun, relaxation, and good weather, too. I'll look forward to connecting with you on here again real soon. Happy Saturday!