Today we celebrate our Declaration of Independence, and the magnificent and profound achievement it represents. So here's to the wisdom, patience, and perseverance that got the job done!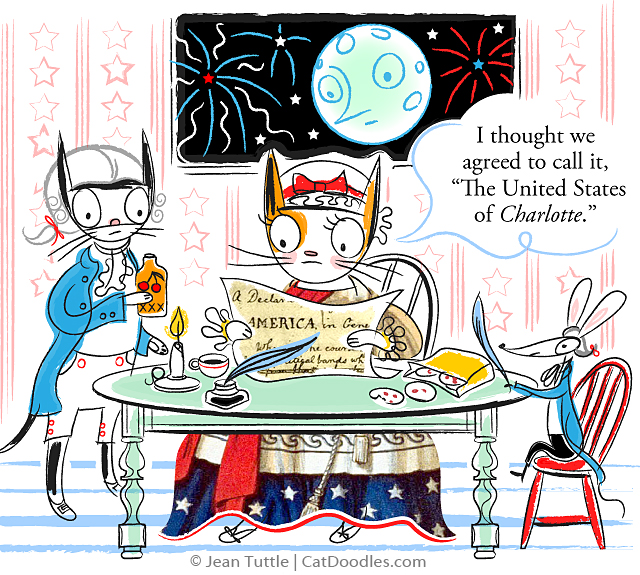 And here's to all of you! Charlotte and crew join me in wishing everyone a very festive, fun, and happy Fourth of July—whether you are heading out to a cookout, a picnic, a band concert or fireworks—or just plan to spend it hiding under the bed, like our friend Max.
Last year (amazingly), Max did venture out to the town fireworks display, along with Blackie and Charlotte and me. OK, maybe the cats were only there in my imagination. At any rate, Dad was away on a trip, so I emailed him the quick doodle below to say hello, using blurry snapshots taken with my phone.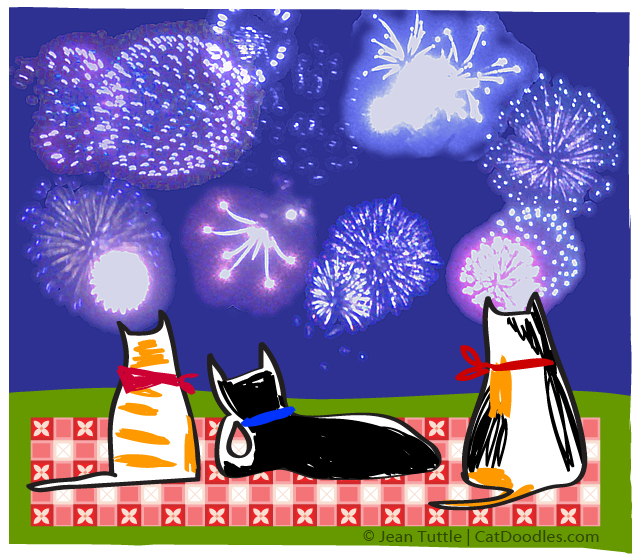 And that was one of the first cat doodles I did for him after I started doodling again, a year after Mom had passed (having originally started making them for her). So it's been a solid year of churning this silliness out. What can I say? It sure has been fun!
And it's sure been fun having a wider audience, too, via this blog, for these past 6 months or so. Which is to say, thanks again for stopping by and being part of it. I appreciate it, and you, and all your comments, too. Have a great day, and see you on here again real soon!