Today marks the third year that we're having Mom's birthday without her, Priscilla having passed away in May of 2010. But even though I still miss her terribly, it feels like a happy day to me—a chance to celebrate and remember. And for Priscilla's cat Charlotte, it's a chance to wear her giant "Mom & Me" locket, and a delicious birthday cake hat—Priscilla  "in her heart" and "on her mind."
—As she is for me always…but especially today.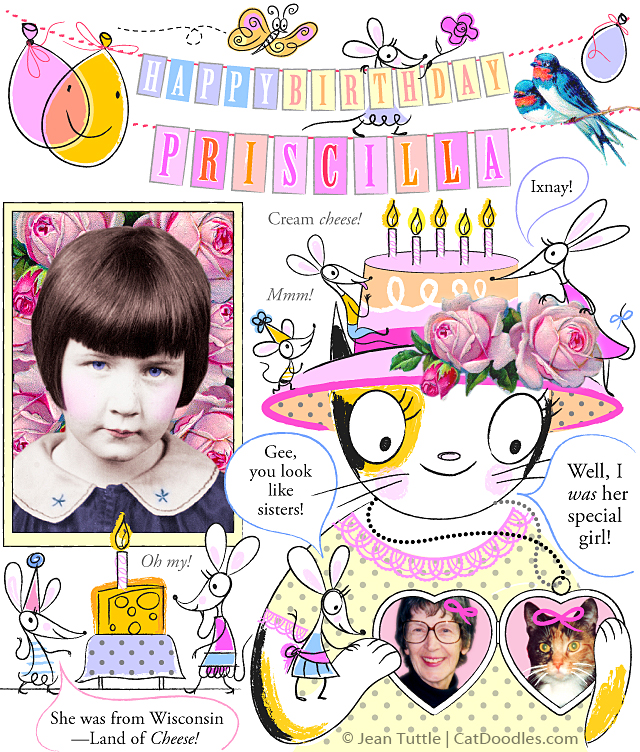 In Priscilla's honor, I'm posting something a little different today, that I know she'd enjoy: some vintage monkey business by the late Jim Lunde, talented Chicago designer, prolific doodler, and her great, good friend. Lunde and Mom (before she was "Mom"), worked alongside each other at Container Corporation of America, under Albert Kner, in the late 1940s/early 1950s.
Here's how the camera captured Mom at Container (left), and how Lunde did (at right).  —Like I needed to point out to you which was which. 😉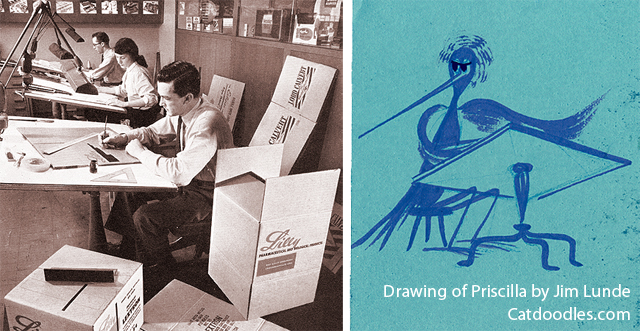 These wonderful (and sometimes wicked) little Lunde masterpieces—the ones Mom squirreled away, anyway—were mostly drawn on little scraps of paper that Lunde used to wipe his paintbrushes on as he was working—this being back in the day when graphic designers hand-lettered type. A little daub of paint would likely catch his eye and spark an idea — the way someone else might see a shape in a cloud formation that looked like a bunny, perhaps.
But in Lunde's case it wasn't bunnies, but birds, that he imagined, and which gave birth to many a character and visual pun, like this "shoebill stork" he doodled for Priscilla's 24th birthday…a July 11th, 63 years ago.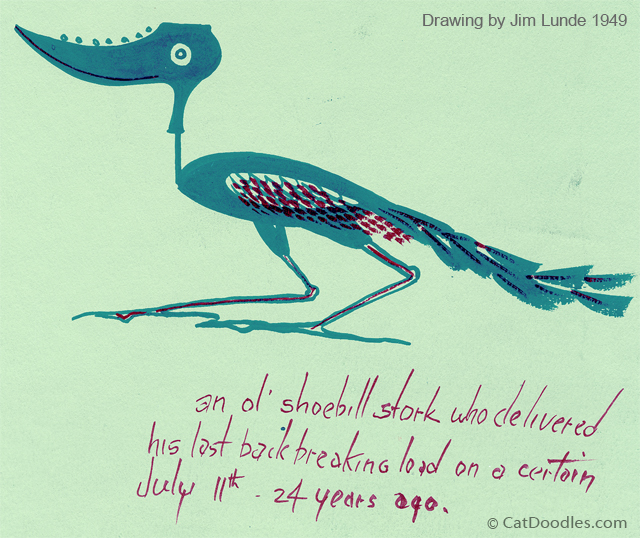 Here are a couple of Lunde's more flattering drawings of Mom—and a couple that aren't. The caption on the second one from the left reads: "You look positively vibrating this morning. Did you sleep on your head?" —A reference not only to the vibration of green against magenta, but to a jarringly bad hair day Priscilla must have been having—I guess!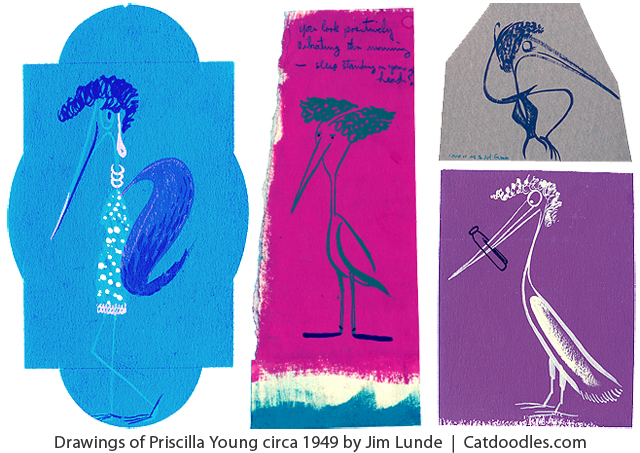 One almost has to see these drawings "in the flesh" though, to fully appreciate them and their inventiveness. (Which is what Mom was so charmed by, I think. —That, and their humor.)
Here's one where Lunde has made a miniature Pris head on a photograph of an eye. The doodle is half an inch tall—I've included Lunde's letterhead for scale, and at right, a blow-up of the pupil area so you can see the fine detail.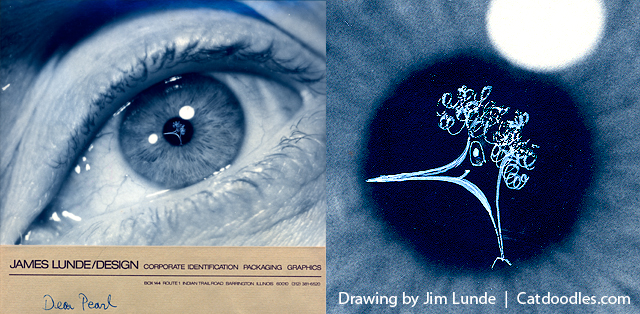 Sometimes Lunde glued in little bits of things, like a dried flower petal, making the gown for the dancer at right.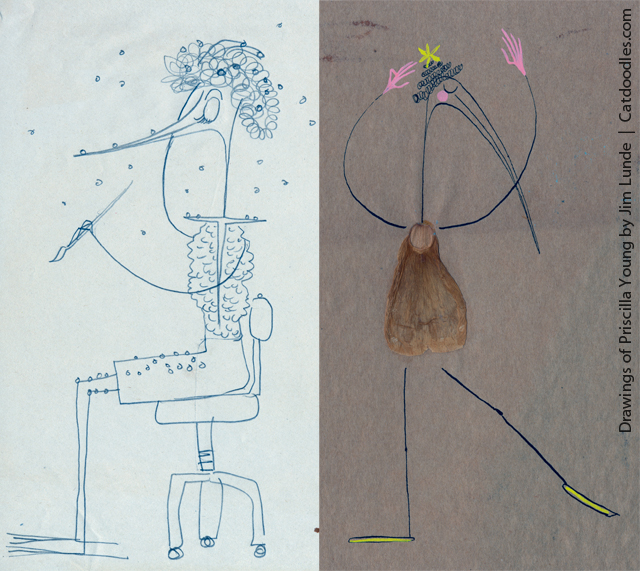 Somewhere in her career as one of Lunde's (many) doodle muses—no co-worker was safe, even the boss—Mom acquired the pet name "Pearl." Was it because of her pearly whites? It seems entirely possible.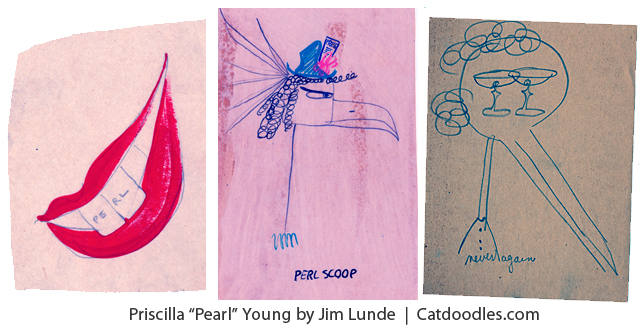 Below is the only drawing in Mom's treasure box where Lunde has drawn her as a human female. The joke seems to be, at five o'clock she leaves the office and is magically transformed from the strange Lunde-bird-creature she is at work, into someone with a neat hairdo and pressed clothes. —His admission, perhaps, that she's more attractive than he portrays her as being? (What is it with those feet, though?)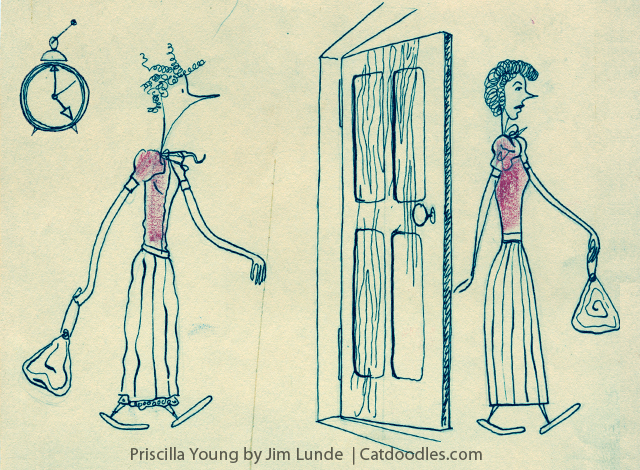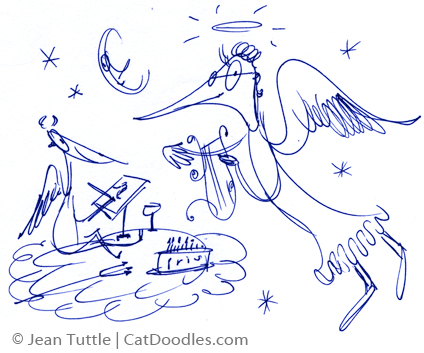 Jim Lunde passed away some years ago, but I like to think that he and Mom have reconnected and are sharing  a birthday toast tonight—maybe even have a peephole into cyberspace, so they can revisit his drawings, and reminisce about good times at Container. Or who knows: Maybe Lunde is still doodling…a Priscilla/Pearl angel-bird with a broken harp and clumsy footwear? (Maybe!)
Wherever you are, Mom, and whomever you're with, here's lookin' at you! Lots of love on your birthday, and always. And thank you Mr. Lunde for your fabulous drawings…the delight they gave Mom, and  still give the rest of us. What can I say? Your genius lives on!
Meanwhile, greetings to all my friends on a Wednesday evening. Thanks for your kind patience between my (hardly daily) doodles, and hope life has been treating you well since we last visited. I'll look forward to connecting again real soon. Meanwhile, many happy dreams, and all the best!