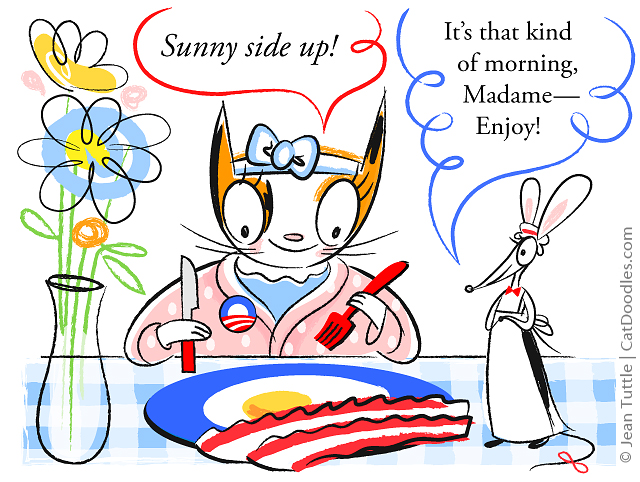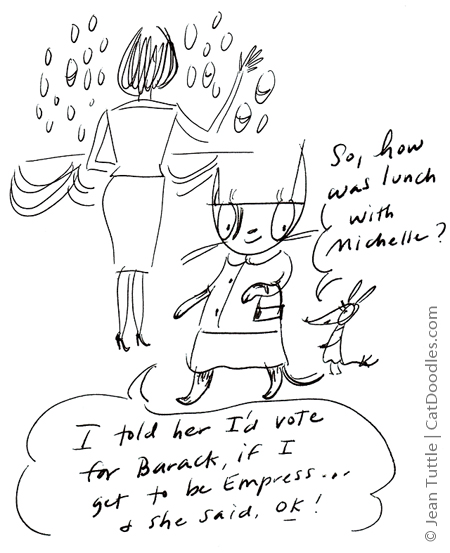 I conked out around 7 PM last night, waking up in the wee hours to hear the good news. (Good news, that is, for me and other Obama supporters…though I hope good news for everyone, when all is said and done.) While I missed hearing Obama's acceptance speech live, and also Romney's concession speech (which has been praised as very gracious), there are thankfully always second chances to get current, and I since have. (And may I say, "Beautifully said, as usual, Chief!")
Meanwhile, the President's victory was also a victory for Charlotte, as it turns out. By way of explanation, here's the quick hand-drawn doodle that was on Dad's breakfast table yesterday—which was not only Election Day, but was the morning after he and Charlotte drove up to Madison, WI, to have lunch with my sister Carol and watch Airforce One take off, after Obama's rally there. I wasn't aware that the First Lady was even in the vicinity, but apparently—in some parallel cartoon universe perhaps—Charlotte had lunch with her, and worked out some kind of deal. So, it looks like four more years of Empress Charlotte as well…and hopefully many more.
Here's a quick snapshot of Her Highness, resting up on Dad's lap after casting her vote yesterday.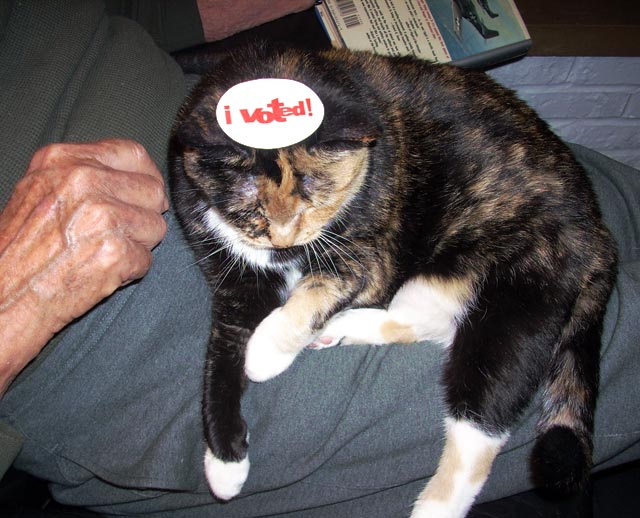 Whether you are feeling celebratory or not regarding the outcome of our election, I guess one thing we're probably all thrilled about is no more political ads for a while, eh? I'm hoping there are many more things ahead that we can all get behind and celebrate soon.
Many thanks for visiting The Daily Cat Doodle, and special thanks to my Republican friends for coming back. (No more politics for a while, I promise.)  My best to all, and here's to new beginnings!