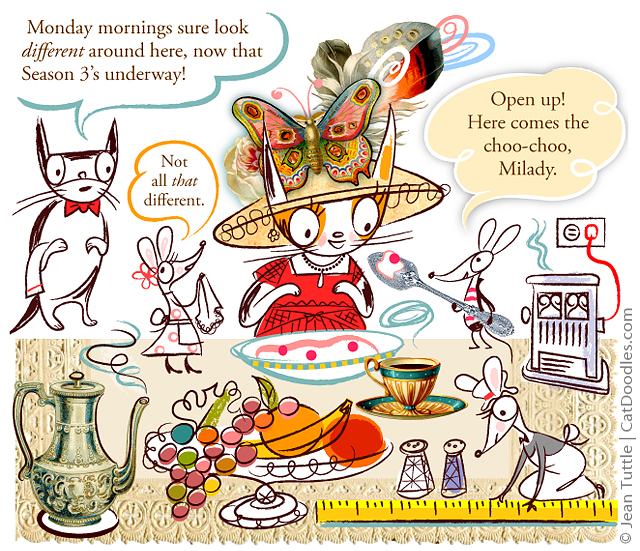 Uh-oh—Charlotte's been watching Downton Abbey again.
And so, every Sunday night, the rest of us have been watching Downton Abbey, too. Studying the aristocratic Crawleys (and their beautifully-trained staff) is the only hope we have of keeping up with "Her Ladyship's" new vision…for what life should be like in our own humble home.
So that's been the downside of Downton: Charlotte's higher expectations for a more attentive staff (us), more costume changes throughout the day, fancier hats, finer food, etc.
The upside? Fresh material for my daily cat doodles for Dad, of course! (Here's the Downton-themed cartoon that I left out on the breakfast table just now, in hopes of starting his day off with a smile.)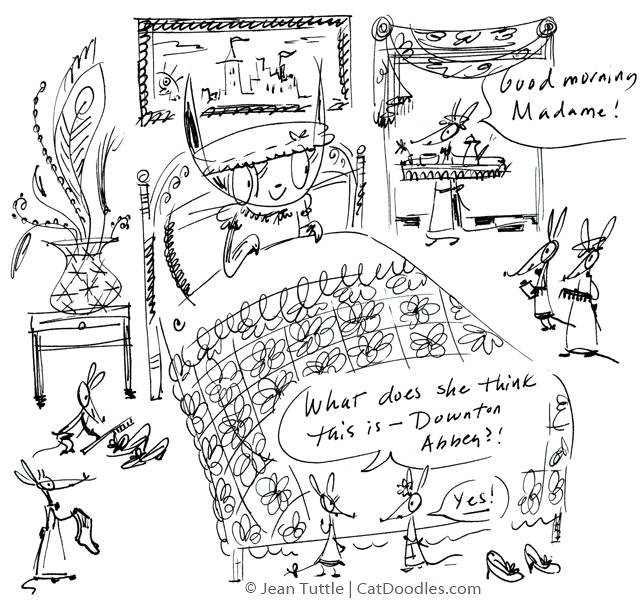 I hope this morning finds you with plenty to smile about also—Martin Luther King Day, our President's Inauguration, a little extra sleep?— as well as looking forward to a great week ahead. (Happy Monday, everyone!)
P.S. Thanks once again to Karen, The Graphics Fairy, for the butterfly, feather, flower, teacup  and teapot used in today's drawing. You can check out her fantastic collection of vintage clip art images here.