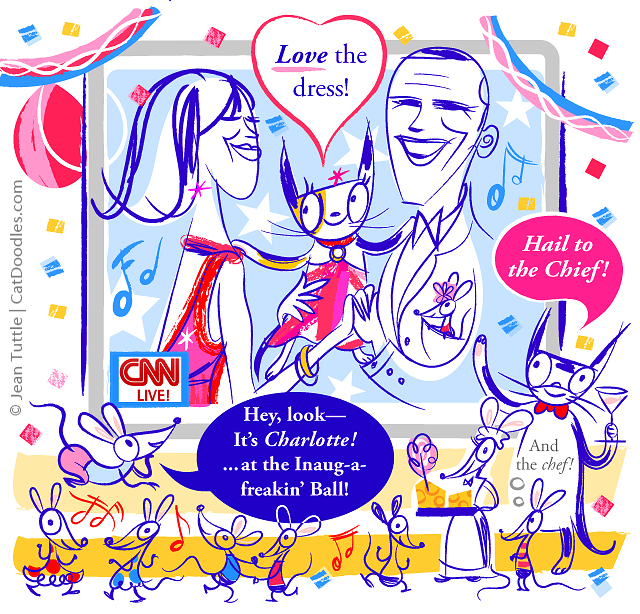 This was the scene at our house last night, as we celebrated Barack Obama's Inauguration, alongside the rest of America. I thought the President and First Lady's dance at the Commander-in-Chief's Ball was a wonderful way to cap an uplifting and happy day. And, like Charlotte, I loved Michelle in her beautiful red Jason Wu dress.
Flora Mouse's favorite part came earlier in the day, during Obama's inaugural speech. As a mouse in love with a cat, she believes, as many of us do, that all should be free to love  (and marry) whom they choose. So when Obama listed Stonewall alongside Seneca Falls & Selma, it reminded us that our president thinks so, too…another reason to feel great and celebrate!
Here's a doodle of Flora and Max from our little house party, and a (rare) snapshot taken a little later, when they finally hit the sheets.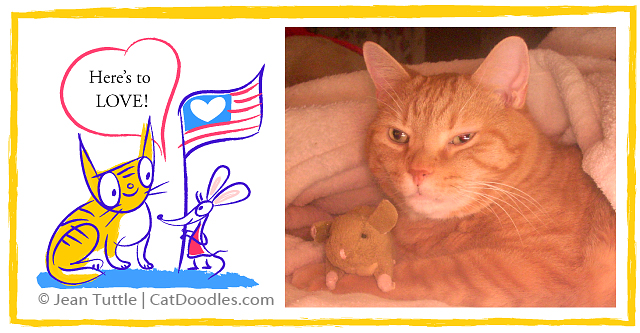 Congratulations and good luck Mr. President—and may you accomplish many great things, on many fronts, in your second term!