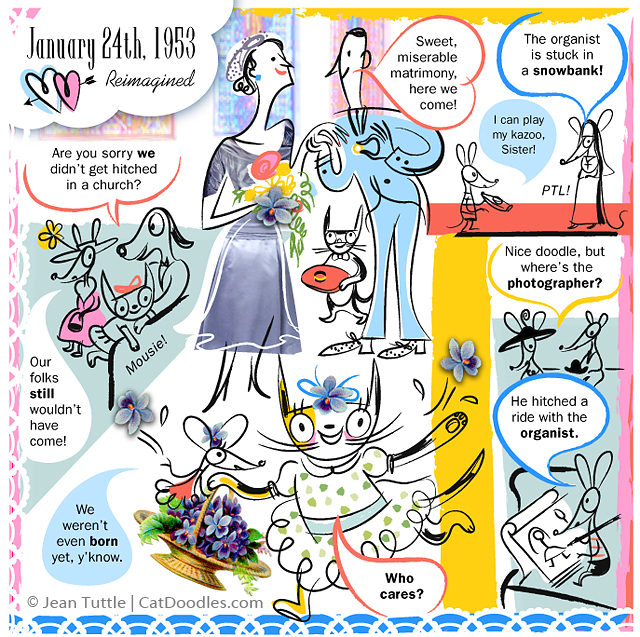 My parents got married 60 years ago this past week, and even though Mom passed away in 2010, it still seems like an important milestone to acknowledge, if only with a cat doodle. (And of course our Charlotte agrees!)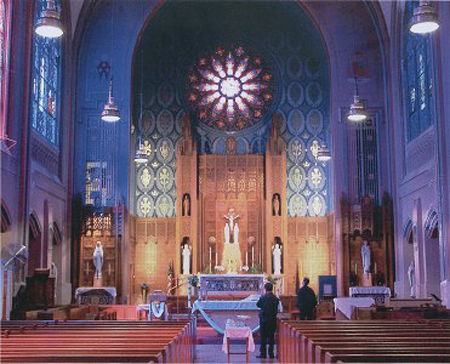 According to Dad, theirs was a super small, simple wedding. Just the bride and groom, a best man, Mom's sisters, and their parents—one of whom (Mom's mother), they weren't so sure was going to show.
This all transpired at St. Angela's in Chicago—"outside the rail," since my dad wasn't Catholic. Mom's older sister Alice had gotten married here also, in a beautiful ceremony, 5 years before. Dad remembers St. Angela's as having had the most lovely pink and blue stained glass windows (which have since been transplanted to another church). I'd have to agree! (You can check them out here, in this virtual tour.)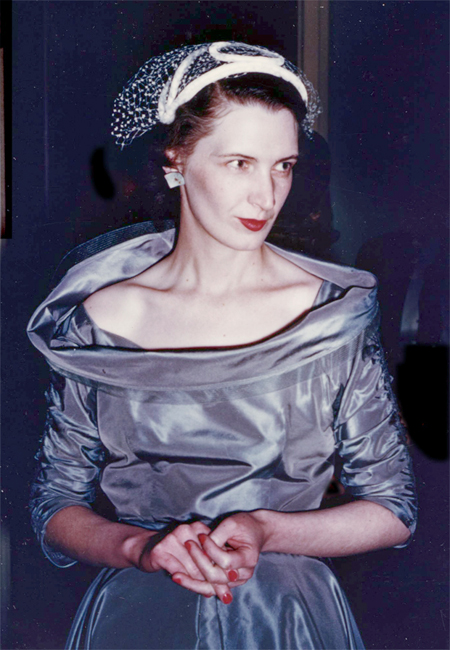 There aren't any wedding portraits, other than this snapshot someone took of the raven-haired bride in her Peck & Peck dress—which I'm so glad we have.
—Nor was there an organist, though one had been expected. Dad remembers the sound of Mom's high heels echoing in the empty church, as she click-clacked her way down the aisle—the first and only time she ever wore high heels (or red nail polish), he says.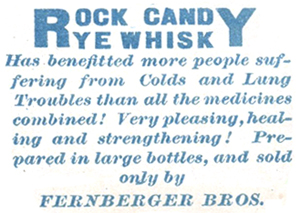 There were  other likely "firsts and lasts"  that day: The first (and maybe last) meeting of the in-laws. Dad's milk-drinking father's first/last Coca-cola…his teetotaling mother's first/last martini? (Teetotaling, that is, except for an occasional dose of Rock & Rye when  feeling poorly, according to Dad.)
The site of these libations was The Oak Park Arms, where they went for lunch, right after the ceremony.
One well-remembered quote is from Caddy (Dad's mother), after she diluted her martini with Guy Harry's Coke, and drank it all down. ("Weeee! These drinks are strong!")
Another "Caddy quote" is referenced in my opening cartoon. (When Mom and Dad visited his parents to announce their engagement, she reportedly exclaimed, "What a sweet, miserable life you're going to have," or words to that effect.)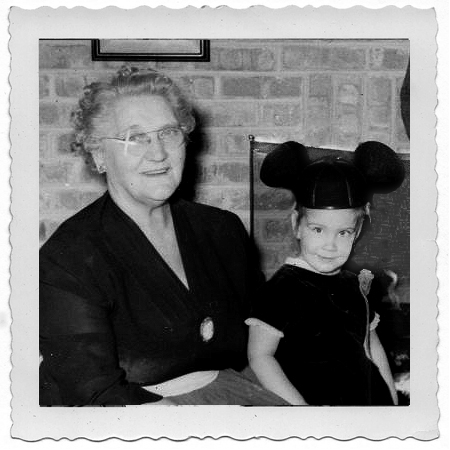 I have to pause here to insert a snapshot of my grandma Caddy (posing with my sister, Mighty Mouse), in hopes that you can see the twinkle in her eye that I like to think was always there. —Even when she may have said things that a daughter-in-law might misinterpret. We kids sure adored her. She was funny and warm and wore wonderful costume jewelry. And when we went to visit, there was always candy.
But after Caddy's reaction, my folks may have become more timid about sharing their good news…Who knows? I do know that, rather than bust right out and announce their betrothal to one of their coworker pals, Mom and Dad assembled a little booklet of "visual hints," using captioned photos of my mom (aka "Miss Young"), hoping he would guess. (He didn't, says Dad. —Not without further prodding.)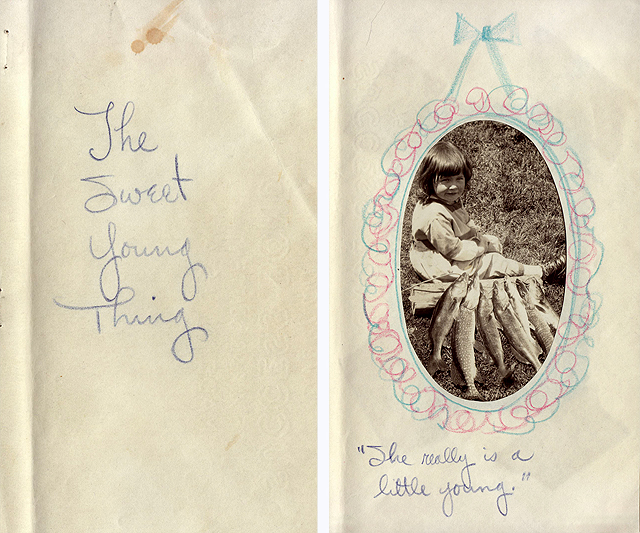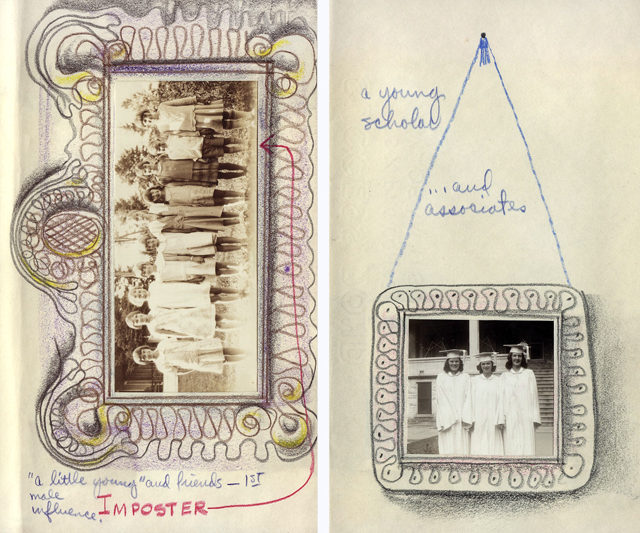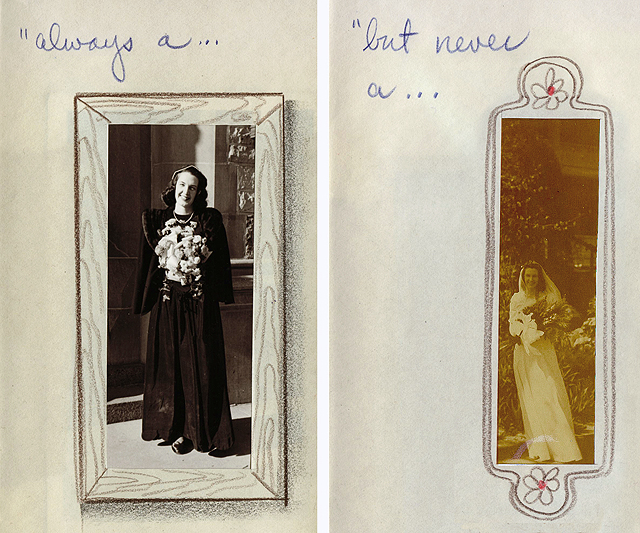 OK, so maybe the above clues were a tad cryptic. But I think their booklet's still pretty charming. And I love thinking of the two of them dreaming it up and having fun working on it together…the first (perhaps?) of many projects ahead.
Here they are, a few years later…and then, quite a few years later. Still smiling.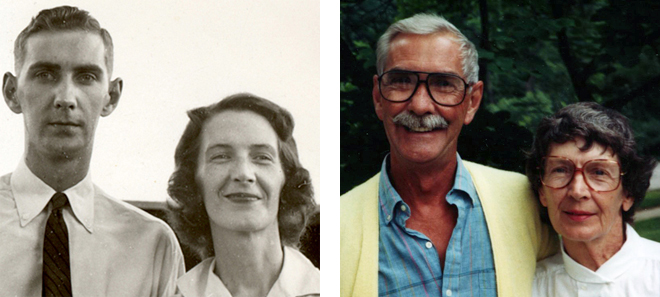 In closing, on the left, here's the front of a favorite Papyrus anniversary card that's been on the fridge since 2008, and which seemed to capture my folks pretty well. (Caption: "You've still got that sparkle!"). I paid homage to it, and to Mom, in the scribbled card I left on Dad's breakfast table last Thursday morning (which you can see on the right).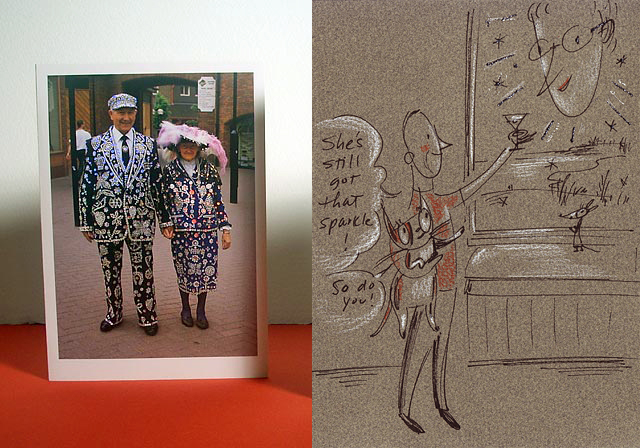 You've definitely still got that sparkle, Mom & Dad — and your story always will have for me. So glad you took that wild reckless leap together sixty years ago, as it turned out to be a pretty sweet deal for my sisters and me. Happy Anniversary, lots of love, and cheers to you both!