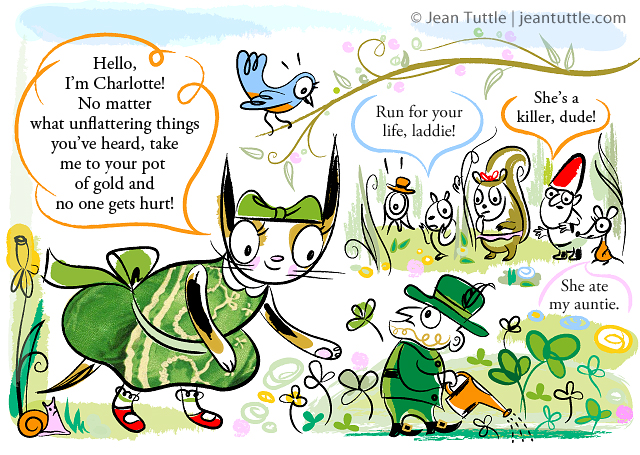 Happy Saint Patrick's Day, everyone!
Where I live, I'm the only one with any Irish ancestry, but that doesn't prevent the whole household from enjoying the holiday. Charlotte's been out stalking leprechauns in her green party dress all day, while Charlotte's French maid Giselle has been slaving away in a hot kitchen, cooking up a delicious traditional feast of corned beef and colcannon (recipe below).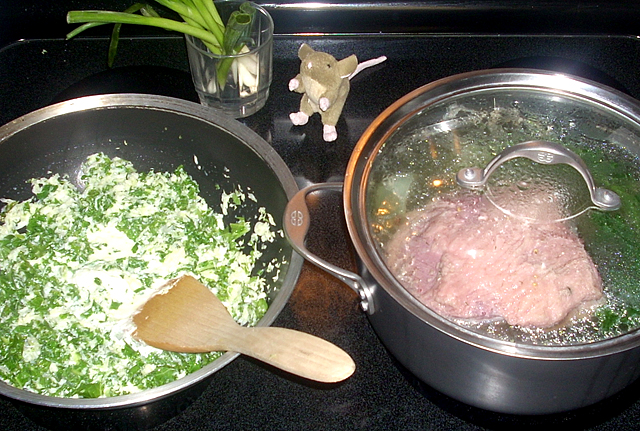 (The kitchen was so hot, apparently, that Giselle was at one point cooking in her birthday suit—or so the above photo would suggest.)
Last night, Giselle treated all the little mice in the household to a special Saint Patrick's Eve bedtime story, The Return of the Leprechaun Space Mice. (I took notes so I could recreate it for Dad's breakfast table doodle this morning. See below.)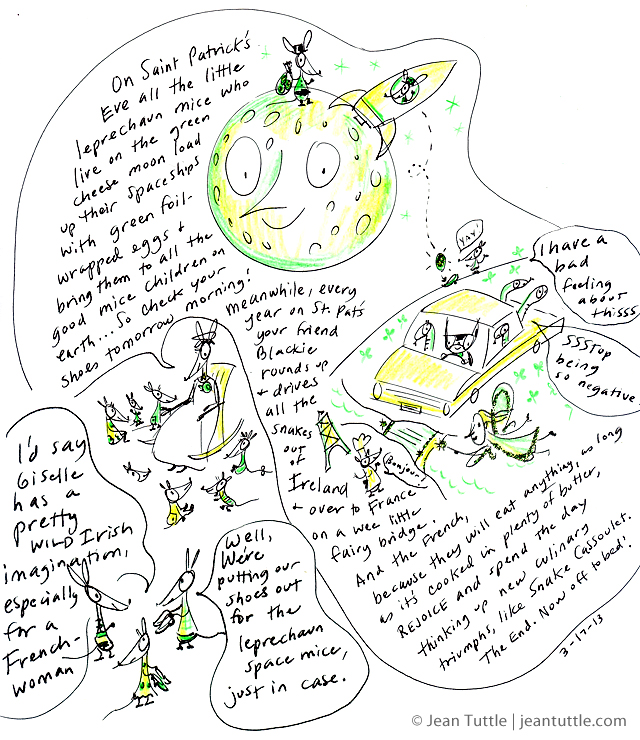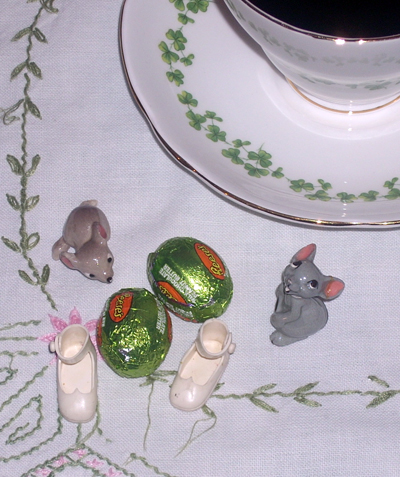 If you're wondering where the green leprechaun eggs really come from, the answer is, on top of our fridge, where Dad and I are collecting things to put in my little sister's Easter basket in a couple of weeks. They are made by Reese's and filled with peanut butter. Quite delicious!
Note: For my Weight Watchers friends reading this, 7 of these foil-wrapped eggs normally has about 5 points (200 cals), but on St. Patrick's Day, the ones wrapped in green foil don't have any points at all—imagine! Giving us one more reason (and way) to celebrate the day.
Colcannon Recipe
For those not familiar with it, colcannon is sort of an Irish version of loaded mashed potatoes—a delicious dish containing potatoes, shredded cabbage or chopped kale (though I use both in mine), leeks or scallions, a little nutmeg, milk, and butter…lots and lots of butter. Martha Stewart's colcannon recipe calls for 4 tablespoons—2 in the dish itself, and 2 more plopped on top just before serving.
I follow Martha's recipe to a degree, but since I don't have much luck with mashing potatoes from scratch, I cheat and buy readymade ones from Bob Evans and then just hide the evidence in the trash really quick. (Kind of like when I make "homemade wink wink" pie crust. Thank you, Pillsbury.) Be prepared to cut back a bit on the milk if you do the same. I also substitute chopped kale for half of the cabbage, and use scallions instead of the leeks that Martha calls for. I mix in 1/4 cup or so of finely shredded aged Irish cheddar and a handful of chopped parsley at the end, just for the hell of it. I drizzle melted butter on top of the dish before broiling, so the whole thing browns a bit more, versus making a little swimming pool of butter in the middle, like she does (though the household mice would have loved that, I'm sure). I also added some cooked bacon this time, since, when I passed a spoonful of the vegetarian version over to Dad to sample, he said it tasted "fine." —And we all know what "fine" means. So Dad not only got bacon, he got a little bonus doodle, a few minutes later. (See below, wet paw marks courtesy of Charlotte.)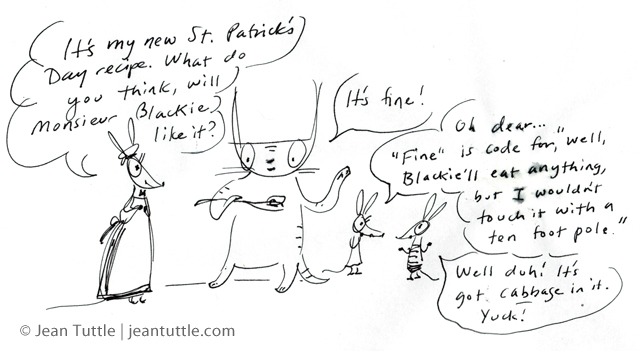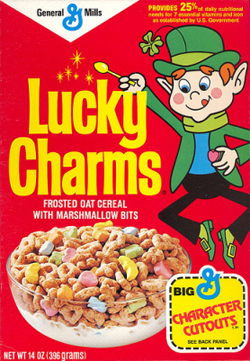 However you spent your Saint Patrick's Day—whether stalking leprechauns in the garden, eating chocolate eggs, or having fun making, eating (or drinking!) traditional Irish fare, I hope you had a wonderful day and weekend. Happy Saint Patrick's Evening, everyone, and have a magically delicious week ahead! (Sorry, I couldn't resist.)
Meanwhile, a special shout-out to my Irish friends and kin, especially Aunt Lorraine, all my cousins, my wickedly funny sister Carol and my one-eighth-Irish nieces, dear friends Eileen & Beth, and all the Duffy clan—who I know are celebrating something extra special tomorrow, too. (Happy Almost Birthday, Karen!)