Update – 5/23/13
Ursula's Kickstarter project (which you can read about below) has hit the $4K mark, but still has a ways (and less than a month) to go. Please consider donating, or helping to spread the word by forwarding a link to this post, or to her Kickstarter page directly: http://www.kickstarter.com/projects/1419160235/art-alien-reconstruction-team
 You can also check out her project's blog here for more info and updates. Go, Ursula!
Ursula Roma's ART: Alien Reconstruction Team Project
My friend Ursula Roma, a Cincinnati-based artist, illustrator and designer, is a genius at transforming found objects (like gears and watch parts and discarded hardware) into fabulous fine art constructions. —Which include wild and whimsical animals, fantastic birds, mythical beings, humanoid-type creatures, and little space aliens, too!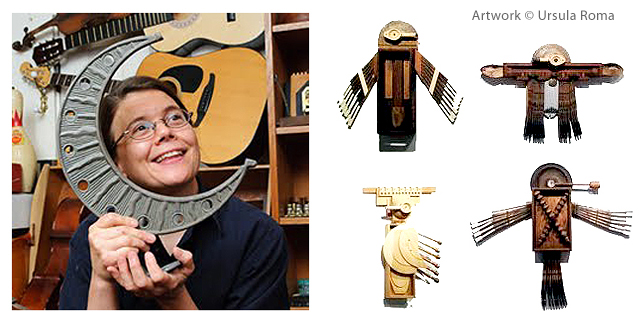 Above are a few of her found objects sculptures from an exhibit she had at Wilmington College last fall; below are some of my favorites from her art blog and Facebook page. (Thanks again for letting me borrow these images, Urs.)
Check out the nail file "feathers" on Ursula's fabulous thunderbird…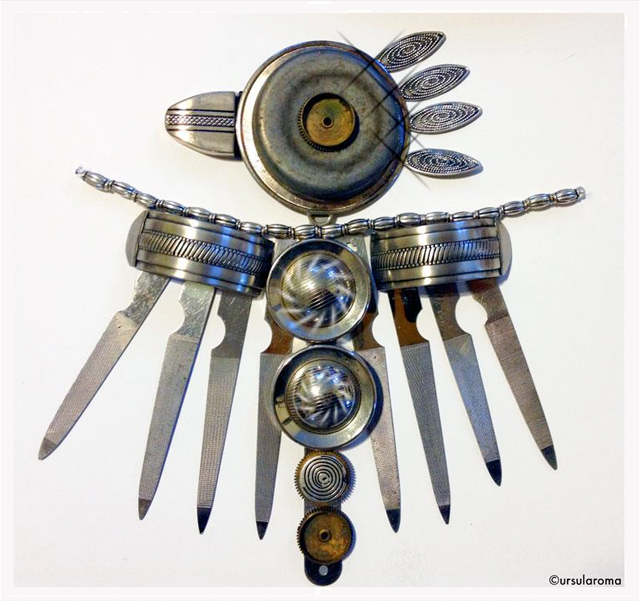 Or the hypnotic gaze of this dazzling owl…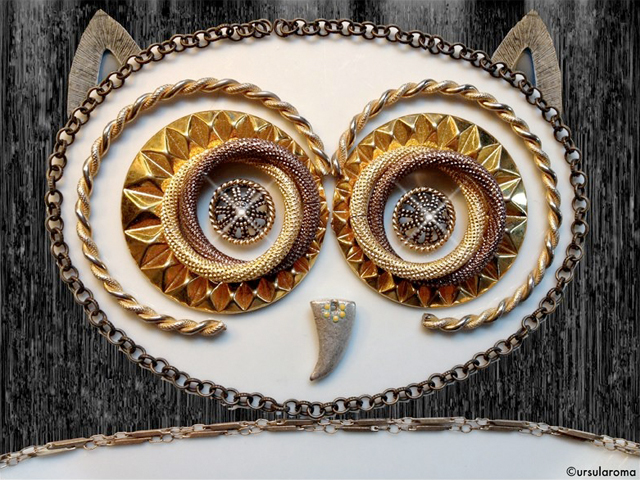 …Or the fun way Ursula combines 3-D and 2-D with this bird and trees and starry sky.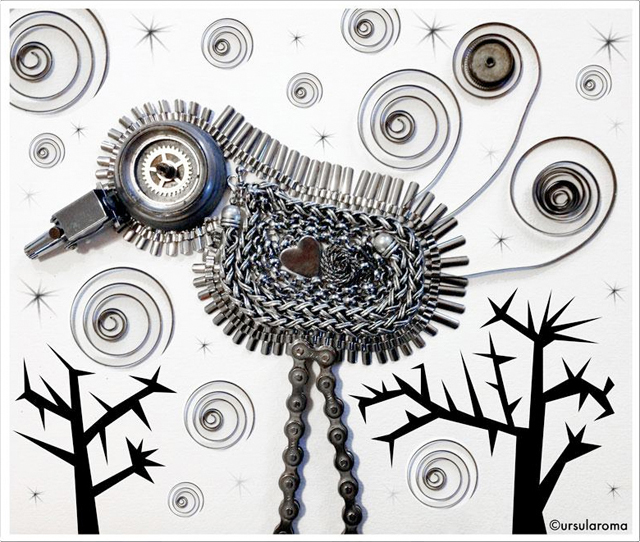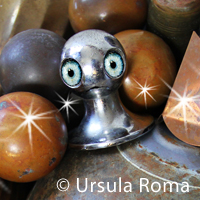 Reconstructing space aliens (and telling their stories) is the focus of Ursula Roma's delightfully imaginative new Kickstarter project, ART – Alien Reconstruction Team, in which she plans to create 50 of these found-art creatures as she travels across the U.S. — And that's just for starters!
In her own words (from her Kickstarter page): "I will travel 50 states, resurrect wounded extraterrestrials, repair their spaceships, send them home, and then create an amazing book!" —Which, knowing Ursula as I do, I have no doubt that she will.
When I first heard about Ursula's idea, watched the cool video she'd made about it, and saw how thoughtfully and thoroughly she'd mapped out her vision — which is part artistic challenge, part grand adventure, part creative collaboration, and 100% fun/unique — I was both charmed and hooked. I pledged my support right away, as did Dad when I sent him the link.
Ursula's little aliens even made it into the next morning's cat doodle. (Once you climb aboard her vision, it's hard not to see little aliens needing rescue/reconstruction everywhere you look.)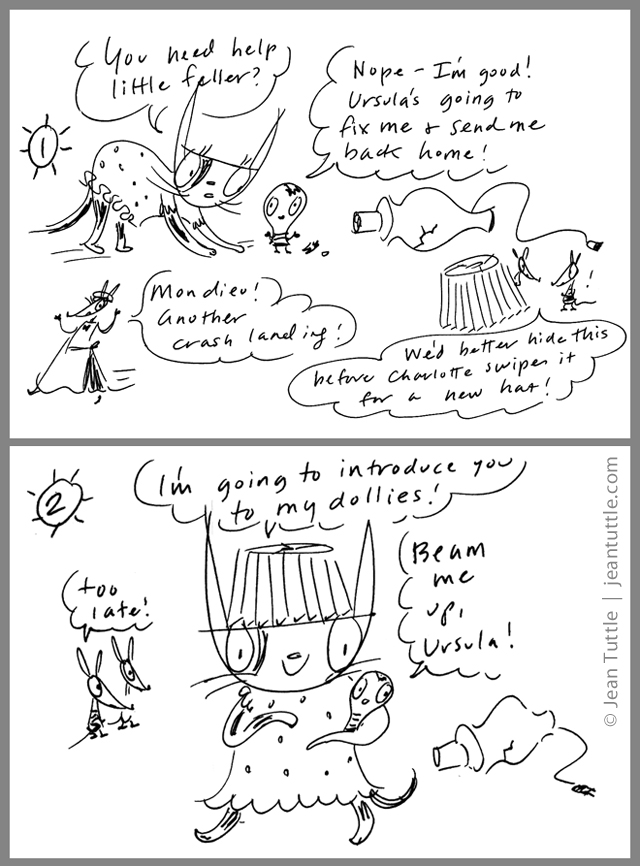 If you haven't funded a Kickstarter project before, or aren't yet familiar with what it's all about, Kickstarter is a great way to support an artist, inventor or other worthy party in realizing their creative vision, for as little as a few bucks (or as much as you would like to give). Most projects have great premiums for their various donation levels (like t-shirts, prints, books, etc.) that make buying into something you'd like to see happen a real no-brainer. (And btw if the project doesn't reach its funding goal, no money changes hands.)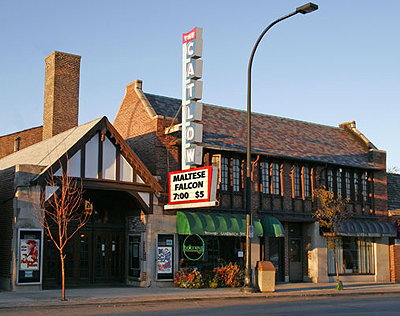 For example, my hometown theater, The Catlow, a classic 1920s-era gem, launched a successful Kickstarter project last summer to fund the costly digital projection equipment they needed to survive. For as little as $10 one could not only help save The Catlow, but would get a voucher for a free movie ticket and popcorn, to boot. —A no-brainer, like I was saying. Fortunately 1,394 backers agreed: The project exceeded its goal by $75K, and our theater was saved. (Hoorah!)
Or Kickstarter might also be a place to seek funding for your own creative project, like Ursula has…? (Something to think about…)
Meanwhile, Ursula's ART – Alien Reconstruction Team proposal expires on June 16th, and could use somewhere between 500 and 1000 more backers before then to help make it happen. I sure hope you might consider being one of them! — Or might consider sharing the link http://www.kickstarter.com/projects/1419160235/art-alien-reconstruction-team with a deep-pocketed, art-loving, alien-friendly friend (or two). The aliens (and I) thank you! —As will Ursula and Maggie (the project's canine Sniff Commander), pictured below.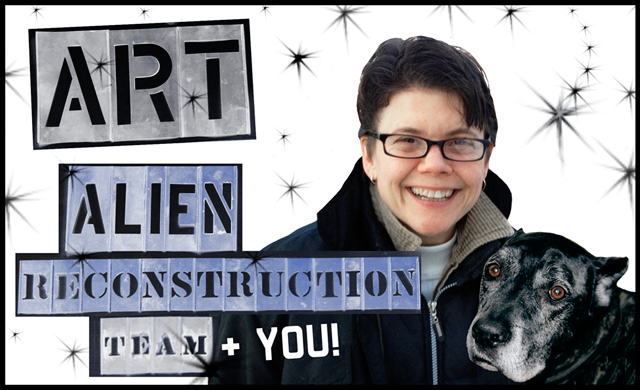 Happy Monday, and have a creative and wonderful week, everyone! Thanks, as always, for visiting, and see you on here again real soon.