"In Spring a black cat's fancy lightly turns to thoughts of…Charlotte."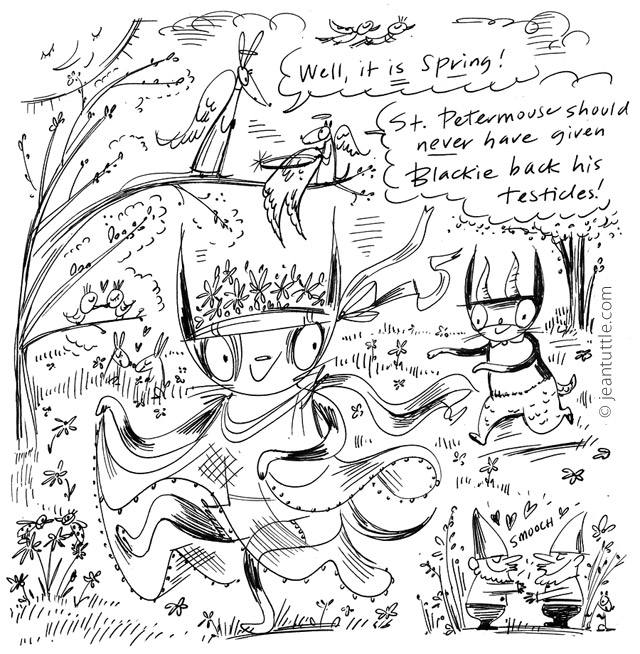 And what a lovely kitty she is! Charlotte insisted I make many practice sketches of "just her" frolicking, to make sure I captured her loveliness "just right."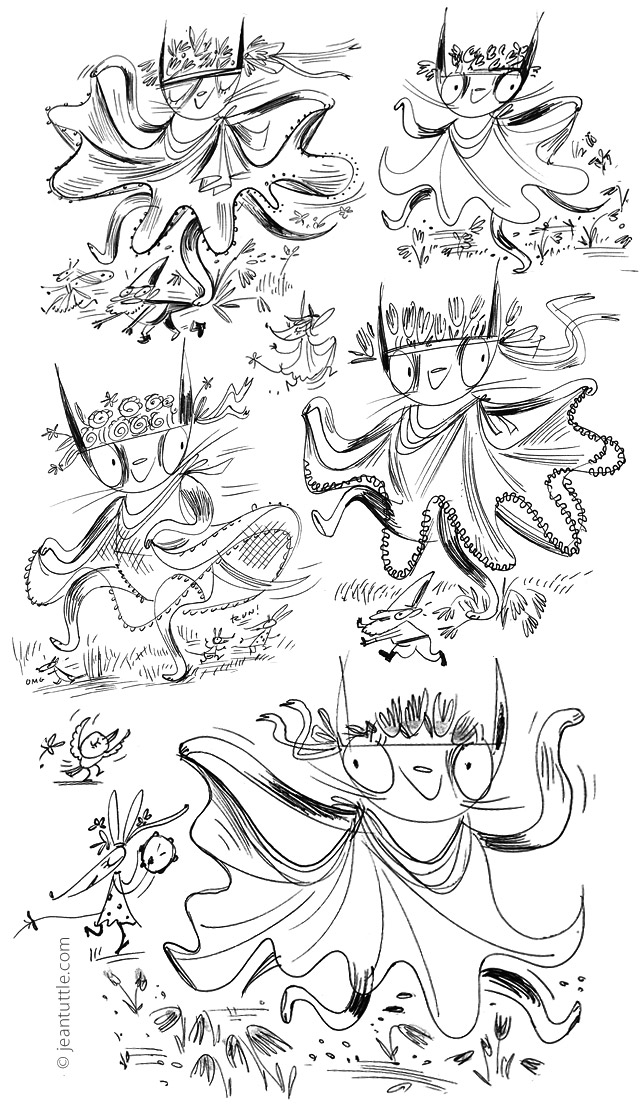 Meanwhile, some of you maybe noticed and wondered about the angel wings and halos in the opening cartoon, the reference to St. Petermouse, etc.?
I'm very sad to say (to those who didn't already know), that my dear cat Blackie, who inspired and starred in so many of my cartoons (especially ones about food, Charlotte, or both), passed away in mid-January.
All this time that I've been doodling our three cats, I've been aware in the back of my mind that someday one (eventually all) of them would have to leave us. And while it wasn't my first thought, I'll admit I wondered how this might play out in these cartoons. (For instance, might I stop cat-doodling altogether…?) But a few weeks after Blackie's death, I resumed, at Charlotte's insistence. And Dad started getting his drawings on the breakfast table again, just like he has now for the past 3+ years, minus those two weeks. (Yeah, I've been doodling all along, just not posting very often.)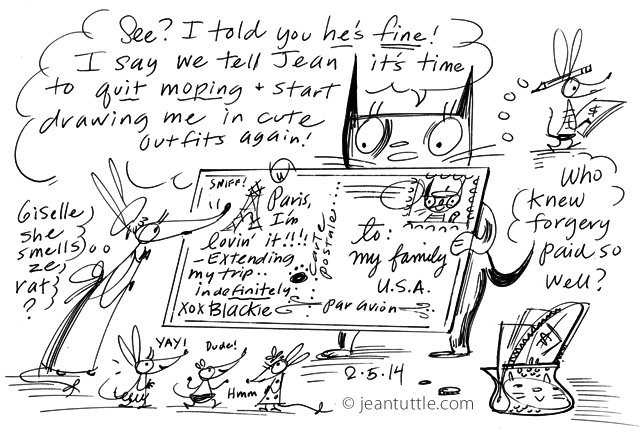 I didn't think through whether Blackie himself would show up in these new drawings or not; he just did — with halo and wings, doing all of the things that an angel cat would still love to do: bake angel food cakes…birdwatch…make snow angels…snack on roasted turkey…play crossing guard when his animal friends crossed the street…worship Charlotte from afar.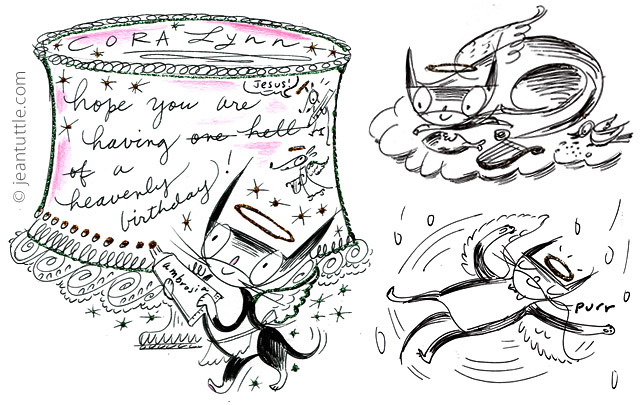 Of course, Blackie always kinda did worship Charlotte from afar.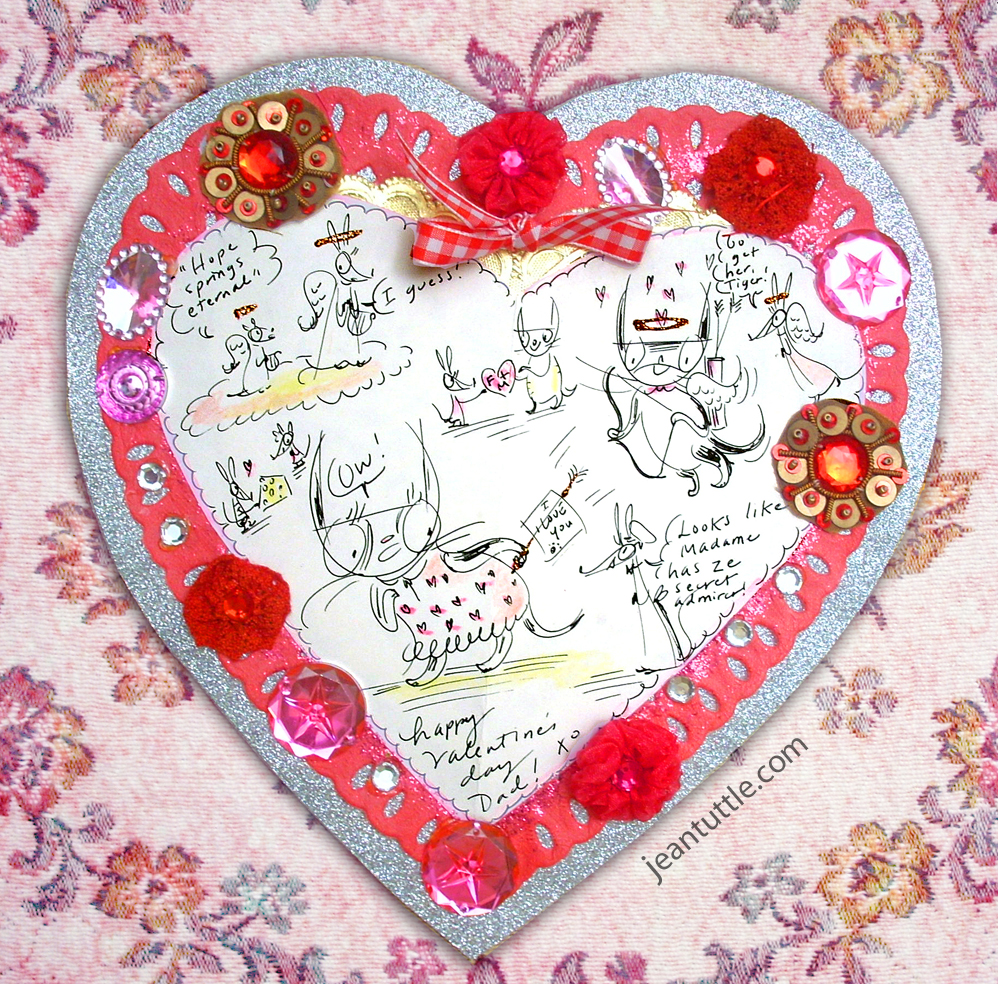 Which is to say, Charlotte mostly ignored Blackie when he was alive. So I guess it's fitting that she can't actually see him now in his new form—at least not yet—though she does seem to sense his presence.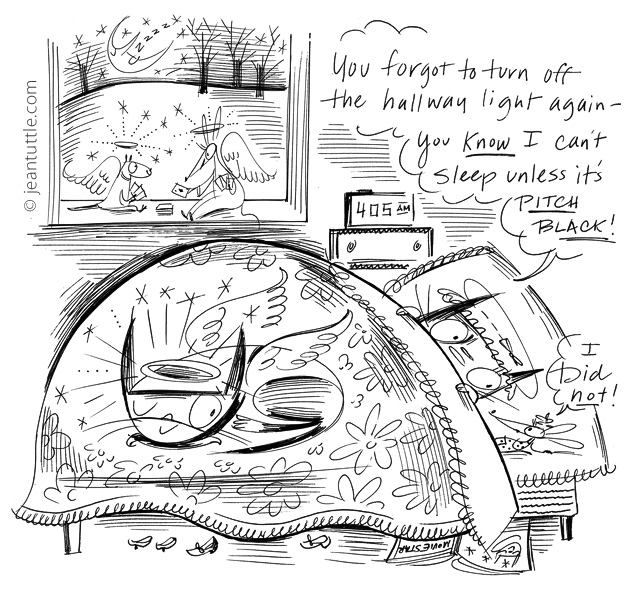 Nor can Charlotte see Blackie's two new friends, though they can definitely see her and love to comment.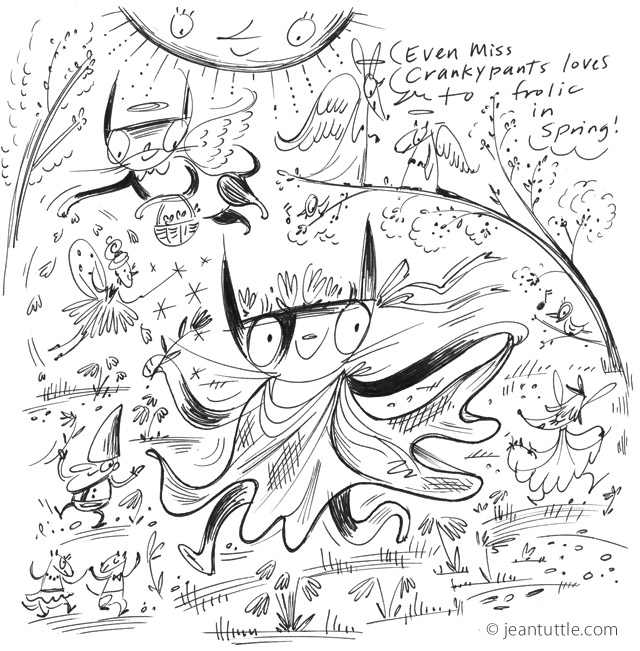 Meanwhile, Max still thinks Blackie "moved to France," and sometimes dreams about the two of them — and Flora Mouse —  bicycling along the Champs Elysée.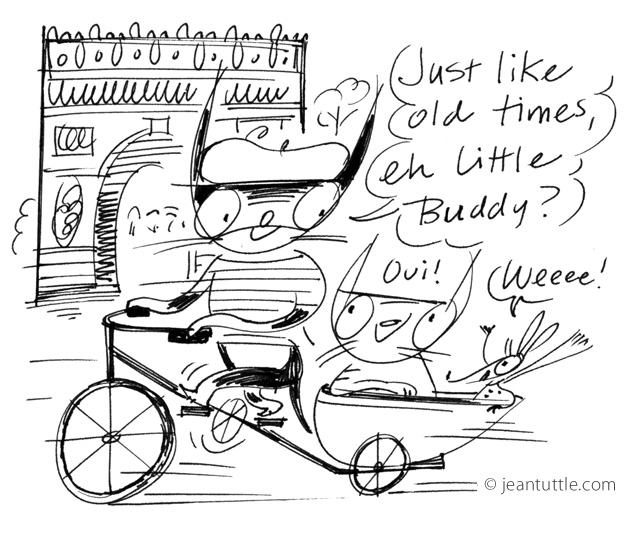 Me, I sure miss the flesh-and-fur version of Blackie, but I'm glad to find I can still channel his cartoon counterpart. (Like Max, I love spending time with Blackie, if only in my imagination.)
In closing, a couple of my favorite photos of my sweet black kitty, and, for those who haven't seen it and are interested, the tribute to Blackie I posted on Facebook.

Blackie Tuttle 199? – 2014
[January 19, 2014] My beloved cat companion Blackie passed over to the other side yesterday afternoon after a long (18+ years) and very happy life. Mourners include my dad and myself, our cats Charlotte (we think) and Max (definitely), plus his friends and extended kin, human, mouse and canine.
Blackie was a gentle and elegant tuxedo cat with beautiful paws marked like pink and black Indian corn — the pads and toes different alternating colors. He joined the family in 2001 in Connecticut, helped me through a divorce, 2 long distance moves, the death of my mom, and other big life changes. He was feral when I first trapped him (in order to get him help for an injured paw) but quickly became part of the family, my affectionate shadow, Max's friend and protector, and eventually had an active and recurring role in my daily cat doodle.
I'm taking comfort in knowing that his decline (the result of a tumor) was brief and relatively painless, and that he was able to call the shots re his time and preferred method of departure (at home, with assistance, and as soon as was reasonably possible).
This was all thanks to (the truly amazing) Kate Solisti of A Kinship with Animals, an animal communicator we worked with this past week (which we had done in addition to consulting with our vet, taking Blackie in for an exam and tests, and to have some built-up fluid drained to make him more comfortable). We'd worked with Kate before, as have a number of my friends, and I can't recommend her highly enough, whether your pet is ill or you would just like better insight into their health, behaviors, and thoughts. Kate, we are all so grateful! (I'm including Charlotte and Max in this too, as I know they also benefitted a lot from your communicating with them during these sessions, preparing them for what was happening and about to happen to their friend.)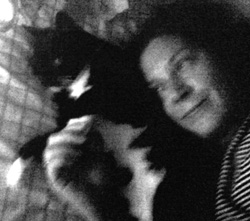 I'm very thankful also to Stacy Chirillo, DVM of Lap of Love (Veterinary Hospice and In-Home Euthanasia), who drove out to the house in a snowstorm on Saturday to administer the drugs that allowed Blackie to take his leave of us the way that I am sure he wanted — without pain or stress. Though he had withdrawn and begun to fast immediately following his return home from the vet visit the day before, a sense of perfect peace and contentment seemed to return to him immediately following his/our last conversation with Kate the next morning (yesterday), which extended straight through the session with Dr. Stacy several hours later, up to his last breath. Blackie was able to remain in his soft nest on the bed throughout this final process, with me next to him, petting and talking to him, as in this grainy photo (phone camera, dim light — sorry!) taken some months before.
Thank you, dear Blackie, for sharing your wonderful life with me and with us, and making my own so much more wonderful as a result. So sad you are gone, but so happy you are at peace. I love you always.