There was a great surprise waiting for me in my mailbox at the studio yesterday: some homemade pound cake sent by my thoughtful friend (and an excellent baker), Rebecca—whom you may remember from an earlier post.
So this morning on the breakfast table, along with the below doodle of Max and Flora (both huge pound cake fans), Dad was treated to a tasty sample.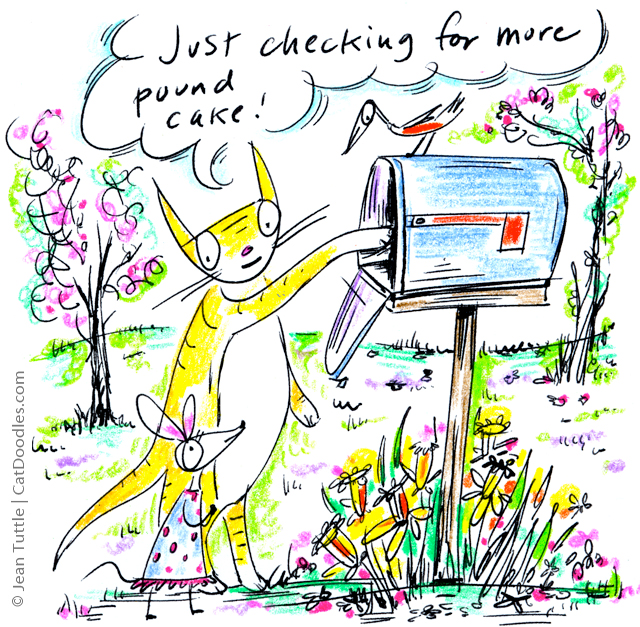 —Though it's something of a minor miracle that there was any pound cake left by then, due to an unscheduled tasting at 3 AM, when Blackie, Aaron (Charlotte's dressmaker), and I all got in from the first midnight showing of The Hunger Games. (Doesn't the title alone make you want to go fix a snack?)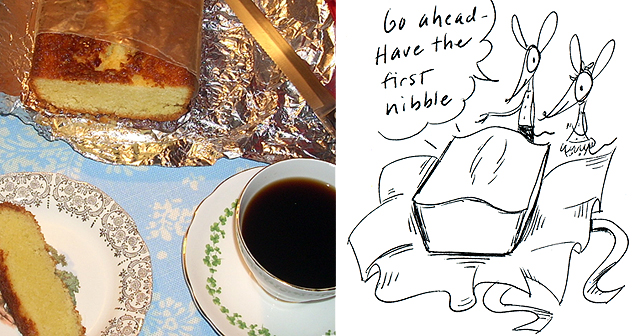 Since this movie has just opened and been very highly touted, I figure you might be thinking of checking it out this weekend, and might like a few more details.

First off, do not take a formerly homeless cat with you to see a film set in a post-apocalyptic society where canned Fancy Feast is no longer available. —Not unless you are prepared to buy him a jumbo-sized popcorn.
Secondly, if there is an aspiring fashion designer like Aaron in your household, he or she will love it. The costumes worn by the residents of the decadent Capitol are pretty wild and over the top! We're talking fabulous crazy-colored wigs and eyelash extensions, wacky hats, etc.
While watching, Aaron made a lot of (top secret!) costume sketches, but did agree to share these other two scribbles, which I'd explain thusly:
1) Anyone taking a young mouse to see the film should be strongly cautioned: There is a brief cameo by a snarling cat early on (Primrose's beloved-but-crabby Buttercup, whom everyone else but Primrose loathes).
2) There is a big rat later on who has some very interestingly sculpted facial hair.  I don't think it is much of a spoiler to tell you that even though he smiles a lot, he is bad news, as is nearly everyone else in the Capitol, where the annual Hunger Games take place—an event where teenaged tributes from each of the other districts are pitted against each other in a fight to the death.
(The berries reference is going to make more sense after you see it; trust me.)
From a mouse's perspective, that is probably all you need to know. From a human perspective, I'd say, I really enjoyed it, but I think it might be more interesting if you read the first book in the Young Adult series before seeing the film (if you haven't already). It will help fill in some of the gaps. Plus, I think Suzanne Collins is an excellent writer, and I enjoyed the series so much that right after I finished it, I read another one she had written, The Underland Chronicles, though it is probably aimed at an even younger audience.
I'll be curious if any of you go this weekend, what you think…?
Meanwhile, that's it for this edition. Time for me to go home and have some pound cake. Thanks again, Rebecca, for a wonderful treat, and have a great weekend everyone!