No, not my moving sale (thank God!)—but that of my dear friend Vicki, who, along with Ridley the wonder dog and the rest of her household, is about to make a big, glorious move from CO to CA. Our Charlotte was thrilled, of course, when she heard the word sale, and popped over to Denver to check it all out.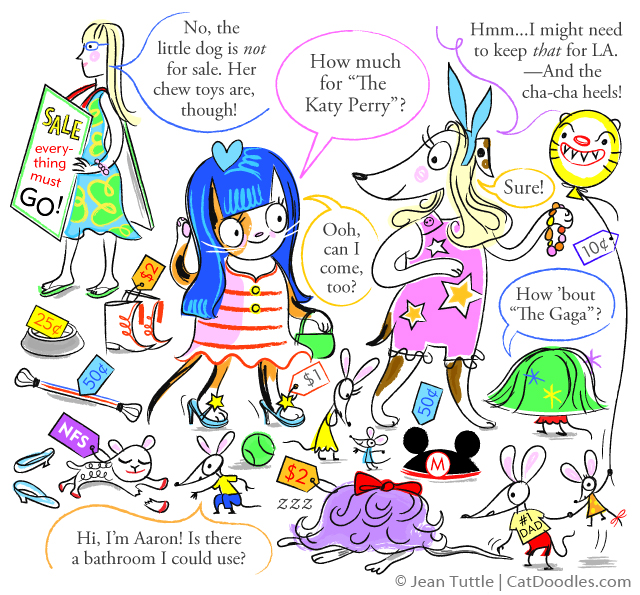 Today's event made me think back to another moving sale—mine—held in the garage next to Vicki's, back when we were neighbors. I don't know what possessed her to do a joint sale with me that weekend (I sure as heck wouldn't, unless I was moving), but I'm so grateful that she did. (If Vicki were along, digging ditches would be fun.)
Below, left, a snapshot from that day 3 years ago: Me holding Miss Ridley, who's decked out in a sandwich board advertising our sale. At right is Ridley from today, no doubt coaxing in buyers with that "Marilyn" look. (Both photos courtesy of Vicki, marketing genius.)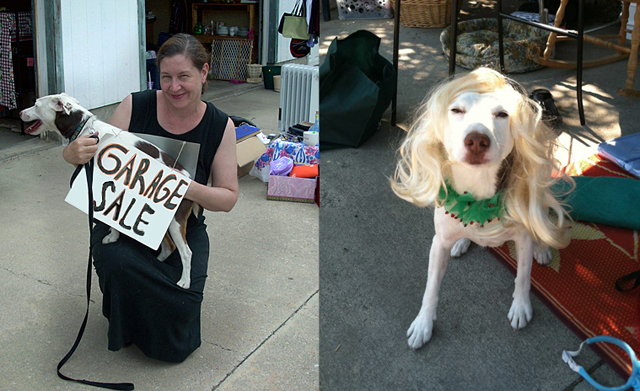 Vicki, hope your sale today was a smashing success! Wishing you Godspeed with all the downsizing and packing…safe and easy travels to get you where you're going…much happiness and success in your new job and new life.
—And while I know it wasn't the goal, something just feels right about Ridley living within a stone's throw of Hollywood, ya know?
I hope everyone out there reading this had a great weekend—or are maybe even extending it through the July 4th holiday. But whether you're at work or at play today, hope your Monday is a good one!
Meanwhile, thanks, as always, for visiting the not-quite-daily Daily Cat Doodle, and for any comments you feel like sharing. See you on here again real soon. Happy Monday, all!