"Breakfast table doodles" is how I think of these little drawings, because that's where they are all first "published." I usually go to bed very late, but before I do, I leave a cartoon—sometimes simple, sometimes complex—on the breakfast table for my Dad to enjoy with his morning coffee.
This habit started a few years ago, when I'd first moved home to help care for my mom, whose health was in decline. A designer and artist, Priscilla was herself a life long doodler, often staying up late when I was a kid to work on what she called "monkey biz"— clever and sometimes very elaborate drawings or cards or paper dolls or what have you for holidays, birthdays, or when the tooth fairy came to visit. So when I was helping to care for her, and on duty at night, it seemed natural to leave a little doodle out on the kitchen table for her before I headed to bed, a small treat she could look forward to as she began her day.
Later, when Mom was no longer able to be at home with us, these doodles became the way the household cats — especially her own kitty Charlotte — sent Priscilla their love and (embellished) household news.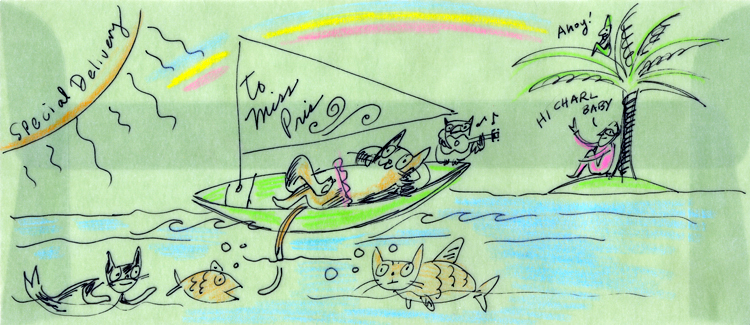 I stopped doing these drawings for a while when Mom passed, but I missed it. Once I resumed doing them for Dad  a year or so later, the whole cat theme (and making up stories about them based on small, real-life events), was already entrenched, and just kind of stuck.
These days, I don't post every day (since I'm enjoying making more finished drawings when I do, and they take more time), but Dad still gets a daily drawing on the breakfast table regardless…even if it's just a quick scribble. It's my favorite thing I do every day.
I'm very happy if you enjoy my doodles, too.
Thanks for stopping by!