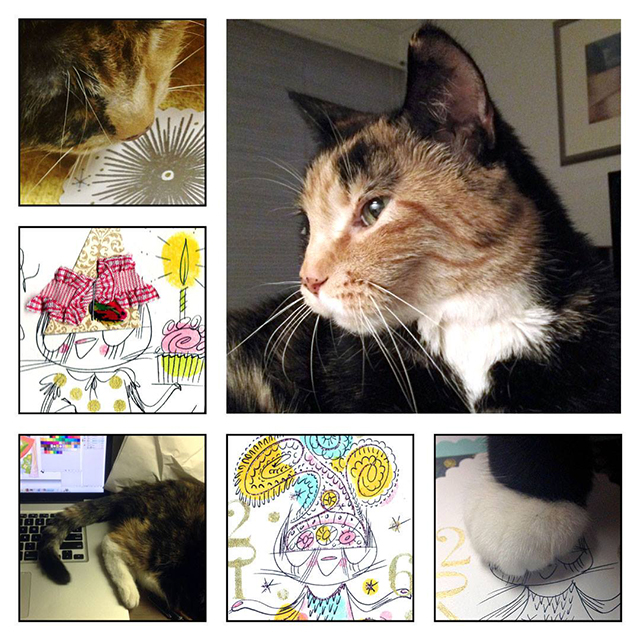 Below is the tribute I posted for Charlotte on Facebook, exactly one year ago, when our dear girl passed. At the time, I couldn't bring myself to announce her death on this blog. But I'm quite sure she'd want her story told on here eventually as well, and I'm finally feeling ready to.
As I promised she would be back then, Charlotte is still "always in my heart and forever on my drawing table," still showing up in my doodles for Dad here and there, sometimes with my departed mom, sometimes with Blackie, enjoying life on the other side, and occasionally butting her pink nose into domestic affairs back here as well. (I'll post some of these one day, maybe even soon.)
In the days leading up to her passing last year, she spent countless hours parked on my drawing table, while I doodled New Years cards — I think about 80 in all — for friends and family, all featuring Her Eternal Loveliness in frolicsome poses. (I'll post more of these one day, too, though a few can meanwhile be seen over on Instagram.)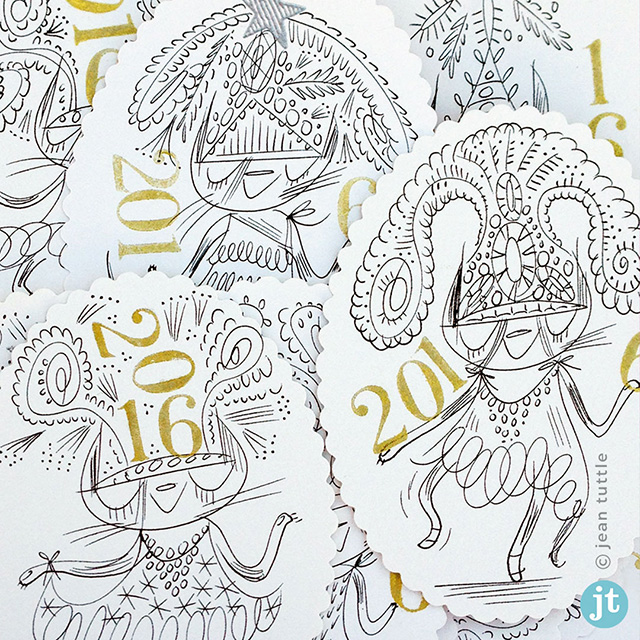 Back then, I never imagined we would ever replace Charlotte, of course, and we haven't. —Though a sweet little gray and white cat, Chloe, unexpectedly joined our family this past November, and has been carving out a new place for herself in our lives and our hearts — and occasionally in my cat doodles, too (though she's still a bit shy, and reluctant to assume a speaking role). I had spied Chloe (then being called Stormy, in reference to the storm drain where she'd been spotted) at our vet's office, when taking our boy Max (who's alive and well and says hello!) in for some routine care. A client had brought her in, and our vet & staff was kindly providing her with love & care & room & board until she could be restored to good health and adopted out.
As well tended as she was, I could tell she was sad, and offered to foster her here at our home, to help speed her healing. And the rest, as they say, is history.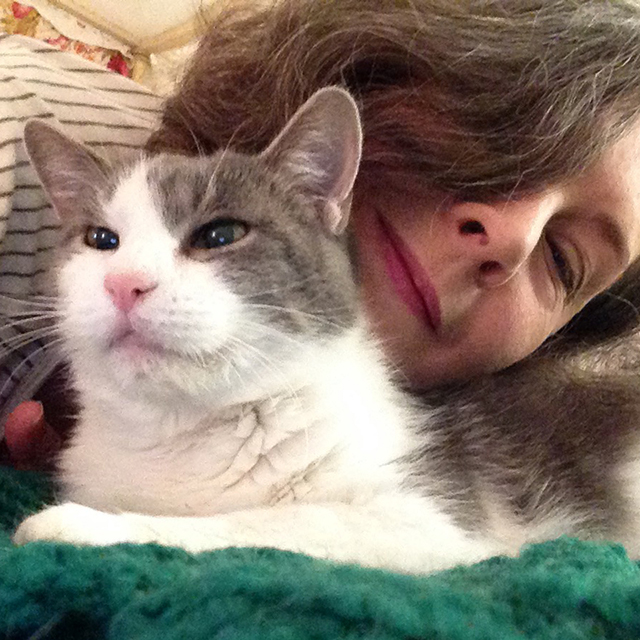 Interestingly, after "the new girl" had been renamed Chloe by us, in response to a request she herself made on her first day here, via our go-to animal communicator, Kate Solisti, I remembered that back here in Doodleland, Charlotte had had a cousin named Chloe as well. So, perhaps this was all meant to be…or was Charlotte Approved, at any rate?
Without further digression…
In Memory of Charlotte 1999? – January 2016
In the end, the end came fairly suddenly, just 2 days after I first noticed changes in her eating and breathing patterns. But fortunately there was still ample time to do the important things: set up a same day appointment with her friends over at Barrington Animal Hospital and afterwards with Kate Solisti, our go-to & godsent animal communicator, to explain to Charlotte (and to us) what was going on, discuss options and timing. We also were able to set up an appointment with Dr. Michelle of Lap of Love, for in-home euthanasia the next morning (which was yesterday, and Charlotte's own preference, versus leaving us any sooner).
Charlotte told us (through Kate) that she "was not afraid of going to the other side," as she "had been there before," and knew "there's a lot of love waiting for me there." She considered herself "a very lucky cat," had enjoyed being here and having a body, but "knew bodies just wear out." She said she loved us very much, and was very grateful for our love. She thanked us "for our patience about the food" — a reference to the 101 different brands and flavors that were opened and discarded partially eaten over the past year, in hopes of finding healthy choices she would like. She said she would come around to visit us after she left, "as Blackie has done." — Which was news to me, though my beloved cat Blackie, who left us 2 years ago this very week, is often in mind. Charlotte also pledged she'd be with me whenever I made my cat doodles, as she always has been when she was here (whether just inside my head, or right next to or on top of the paper I was drawing on).
It was such a peaceful & gentle way to go in the end, which takes an enormous edge off the grieving process. We all miss her terribly already, of course — even our cat Max, whom Charlotte never really warmed up to (to state it mildly). But it was an exit exactly like Her Majesty wanted. She left on her own terms, knowing she was supported, utterly cherished and adored, both by those she left behind, and those waiting for her in the Light — which I suspect includes both my mom & Blackie, among others. Short of wishing our sweet animal companions could live with us in perfect health forever, what more could anyone wish for, really?
Rest in peace, dearest Charlotte: Always in my heart and forever on my drawing table. Thank you again, Kate, for being with us on every step of Charlotte's journey these last several years. And thank you, friends, for all your kind interest in our girl (and my doodles of her). Much appreciated, by her and me both.