Good news: Not only did Charlotte's birthday card (sent out yesterday via Blue Swallow Express) reach our friend Dorothy in San Francisco today, but so did the hand-drawn doodle I had mailed to her, commissioned by her husband Steve. Now that she's unwrapped it, and it's not a secret anymore, here it is…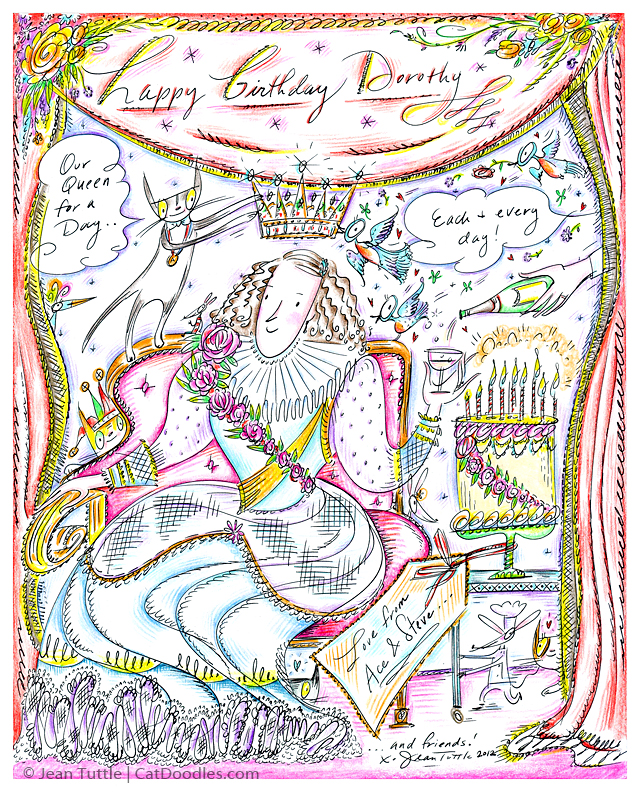 That's Dorothy and Steve's handsome cat Ace, whom you may remember from Oscar night,  bestowing a crown on the Her Majesty's head. He's getting a little help from one of the bluebirds of happiness, who have flown in to ensure lots of good times for Dorothy in the coming year. And that's Steve's arm coming out from behind the curtain, offering champagne—like he would in real life, I think. (He's an excellent host.)
Blackie, Max, and Charlotte all insisted on making an appearance as well—they love Dorothy (and birthdays), as much as the rest of us. See if you can also spot Daisy Mouse and Baby Woot in the larger image up above.

Meanwhile, another thing we're celebrating this week is my Dad's release from rehab and return home this coming weekend. (Way to go, Dad!) Just for fun, here's the super loose scribble I emailed to him on Sunday morning. Charlotte's especially excited, and was already starting to get ready as of Saturday night, as you can see.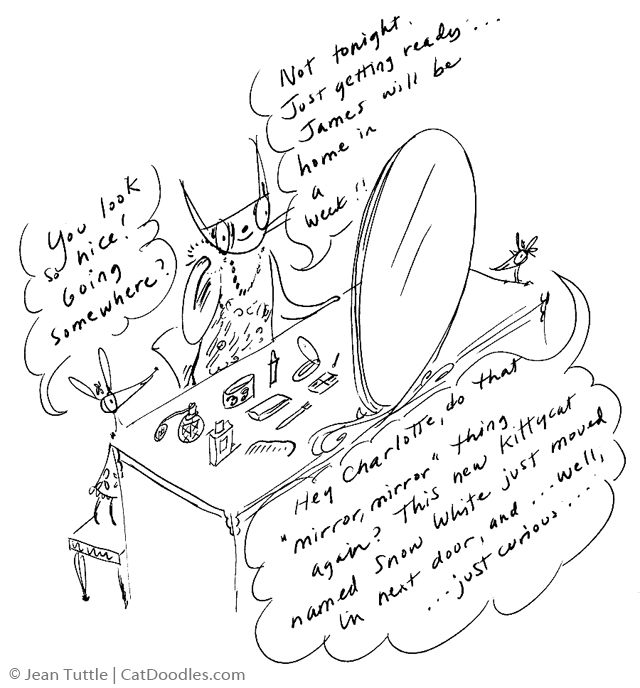 Hope there are many good things to celebrate this week for all of you out there as well! Thanks, as always, for visiting the (Almost) Daily Cat Doodle, and sweet dreams on a late Monday night.